TVs are Huge at CES 2019
On the first workday after CES, there's a lot to reflect on. Many companies have made some big product announcements, and Google has stepped up its game (or at least its marketing) in its ongoing war against Amazon's Alexa. In the TV space, we see a number of interesting trends beginning to emerge.
TV Trends from CES 2019
Bigger is better
8K video and artificial intelligence
Platform-agnostic digital support

Bigger is Better
Parks Associates' consumer survey data show an increasing trend in large TV ownership. As of Q3 2018, 16% of TV owners in U.S. broadband households had a TV 60" or larger. This is up from 11% as of Q1 2017.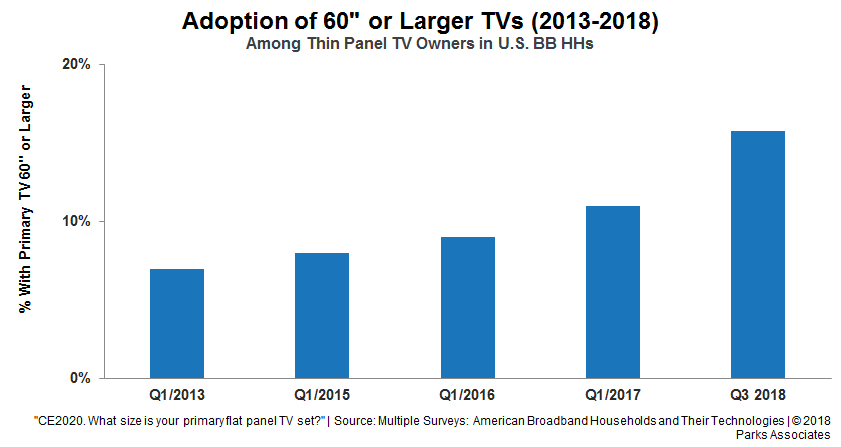 TV makers are capitalizing on this trend by offering ever larger screen sizes, introducing a range of televisions starting at 65" and ending with Samsung's massive 219" second-generation Wall TV.
8K Video and Artificial Intelligence
The increasing trend to larger screens leads directly into trend #2 - 8K video and artificial intelligence. 8K is a controversial topic in the video technology space. Many consumers are incapable of telling the difference between high-definition and 4K content, and 8K content is only almost imperceptivity better than 4K on most screens. Where 8K really shines, however, is when you get to really large screen sizes - the most rapidly growing segment of TV purchases.
Many of these new models are also being introduced with artificial intelligence, some with the ability to upscale content resolution to 8K, such as Samsung's Q9S TV. While 8K TVs have been around since 2013, the initial models were extremely expensive - over $100K and current 8K TVs are still unaffordable for most consumers, clocking in at over $10K. The lack of available 8K content also poses a problem. We still have a ways to go until these models become commonplace.
Platform-Agnostic Digital Support
With the smart speaker wars raging between Amazon and Google, device makers are increasingly seeking to be platform agnostic. Smart TVs are no exception, and TV makers are increasingly announcing support for both Amazon's Alexa and the Google Assistant.
What really surprised, however, was the growing support for Apple's technology - Siri, HomeKit, and AirPlay 2 - from LG, Sony, Vizio, and Samsung. Samsung even announced that its smart TVs would gain support for iTunes Movies and TVs in Spring 2019.
Further Reading:
Next: Top 5 Auto Trends from CES 2019
Previous: The Future Growth of the Smart Home in Europe: Insights from Z-Wave Alliance

Comments
Be the first to leave a comment.
Post a Comment