Trends in Video Aggregation - ContentWise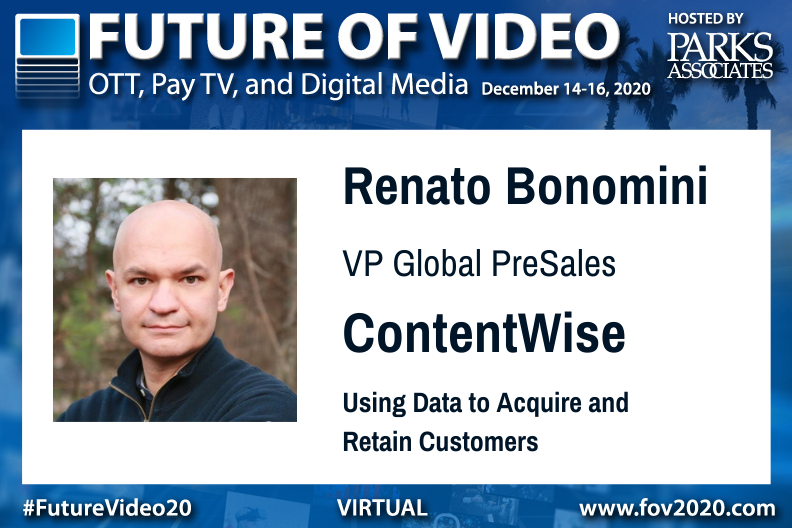 Parks Associates' upcoming Future of Video: OTT, Pay TV, and Digital Media conference will be held virtually on December 14-16 and will bring together industry leaders to share insights on new trends in the video and connected entertainment industries, with insights on consumer behaviors and preferences and the challenges for the video industry in meeting these expectations. Ahead of the conference, Renato Bonomini, VP, Global PreSales, ContentWise, shared with us his thoughts on trends in video aggregation:
What is the impact of the Pandemic on consumer viewing and your business?
Two noticeable impacts:
1. "what is old is new"
The combination of an uptick of video consumption and the lack of new content being produced, moved consumers to spend more time "leaning forward" and searching for "what else can I watch tonight". This meant that older content and end-of-the-long-tail titles have seen an increase in popularity
2. An opportunity for good deeds
Together with our partners at Minerva, we supported Go Malta in providing unlimited entertainment content from home https://www.contentwise.com/2020/05/minerva-and-contentwise-support-gopandemic-relief-action-in-malta/
What major changes are taking place for video distribution this year?
The increased consumption together with decreased production has pushed editorial teams to rely more on the abilities of personalization to let users discover more content from the long tail. Since a lower number of new titles have been released, older movies (usually hidden away in carousels several clicks away) have had once again the opportunity for prime time.
What trends do you see in video aggregation? Which players are best positioned to succeed?
Some regions, such as APAC, are ahead of the curve compared to Americas and EMEA: they skipped the step of "super aggregators" and are now learning how to become "Super App".

In the meanwhile, operators in other regions are still struggling to address the capabilities required to operate as Super Aggregators as they deal with legacy services and the need for business continuity. New operators have a much easier path forward to video aggregation than established companies.
What are the benefits and challenges of OTT aggregation for services?
Despite massive investments, operators are still struggling to assemble what customers demand: a single platform with everything in one place, no need to manage multiple subscriptions, and, more importantly, a seamless and integrated customer experience.
App aggregators, such as first-generation STB from PayTV operators or low-cost streaming devices, are actually aggregating content from different sources, but they are still far from presenting what consumers really want in a unified experience. Going back and forth between multiple apps to find what you are looking for is hardly an elegant and effective solution. This current approach is not only time-consuming, but it is also stressful for users to compare content across different providers.
Content-bundling aggregators do not offer full integration of content, with carousels and programs grouped by content providers, a stunted browsing and discovery experience, no personalization, and limited ability to orchestrate promotions.
We believe there are 3 building blocks to success:
1. multi-catalog integration
2. Personalized Content Discovery + Personalized Unified Search
3. First-party data
We'll be releasing a whitepaper very soon with more details.
How critical are free trials in the customer acquisition phase for OTT services?
From the point of view of personalization, this is a challenge: most operators struggle in getting regular personalization in place correctly for users that have been in their service for quite some time, so when a "trial user" comes in they offer no personalization, leaving on the table the opportunity of using personalization as a retention strategy.
What are the best practices to better engage and retain customers?
Over the last decade, abundant studies have shown that personalization is key to churn reduction. As shown by one of our customers Telecom Argentina a successful UX strategy that includes advanced personalization has resulted in 35% less churn. Nonetheless, operators are often losing sight of this after spending plenty of effort to "get the service up and running". Moreover, the shift from recommendations to personalization in the last few years has shown a clear distinction between operators that "tick the box" of UX features (recommendations) versus the leaders of innovation.
How is your company using data and analytics to help overall business operations, customer acquisition, and retention efforts?
Technology is mature enough to account for a new era of data analytics, where we start looking back at goals: create a compelling user experience. This means focusing on metrics that, in particular for our field of expertise of Personalization, are rounder than what most data scientists coming from outside of media and entertainment are looking for.
Engineers tend to look for the best algorithms that maximize relevance and accuracy, yet operators need to make sure that other dimensions need to be accounted for
coverage
serendipity
diversity
fairness.
During two recent webinars:
https://www.contentwise.com/event/ux-personalization-the-7-essential-kpis/
and https://www.contentwise.com/event/personalization-adapting-to-the-new-world-of-television/
we analyzed how these factors play a crucial role in retention efforts.
Register now for the Future of Video conference.
Next: Future of Video Continues with "Beyond the Theater: New Windowing Strategies"
Previous: The Wild West of OTT Distribution - Revry

Comments
Be the first to leave a comment.
Post a Comment