Top 10 Consumer IoT Trends: Wearables expanding as healthcare tools and other IoT applications
We recently released a complimentary whitepaper examining the top trends in the connected home, health, and mobile industries. Top 10 Consumer IoT Trends in 2017, which features insight from Parks Associates' analyst team, examines key topics driving growth and monetization of the IoT.
Wearables and smart watches are expanding as healthcare tools and will be integrated with other IoT applications.
The market for smart watches, and for wearables overall, is in the early stages, with only 11% of U.S. broadband households owning a smart watch. However, there are significant growth opportunities for both manufacturers and app developers.
Connected wearables help implement the new focus from healthcare reforms, which encourage more health monitoring and support outside of the doctor's office. Parks Associates research shows that consumers primarily use smart watches for health and wellness tracking (58%) and receiving notifications (57%). The next most frequent uses are replying to notifications (43%), checking the weather (39%), and making and receiving phone calls through their watch (37%).
Early consumer data also shows smart watches have an advantage over fitness trackers regarding usage with sports and outdoor activities. Apple has taken notice of these use cases and looks to capitalize on its users' needs with the Apple Watch Series 2, which has GPS and water-resistant features to enhance these types of activities.
Wearables in general have generated interest in the IoT due to the easy access and immediacy of the platform, with applications in areas such as the smart home, insurance, and mobile wallets. Plus, wearables of all form factors collect some of the most personal and contextually relevant data available.
Parks Associates notes that smart watch app developers should focus on notifications and fitness tracking as primary app functions, with an eye to develop solutions in these emerging areas such as device control, insurance data, and mobile payments as adoption expands. App developers will see emerging business models based on utilizing smart watch data to provide insurers with health and location information as auto manufacturers do with vehicles.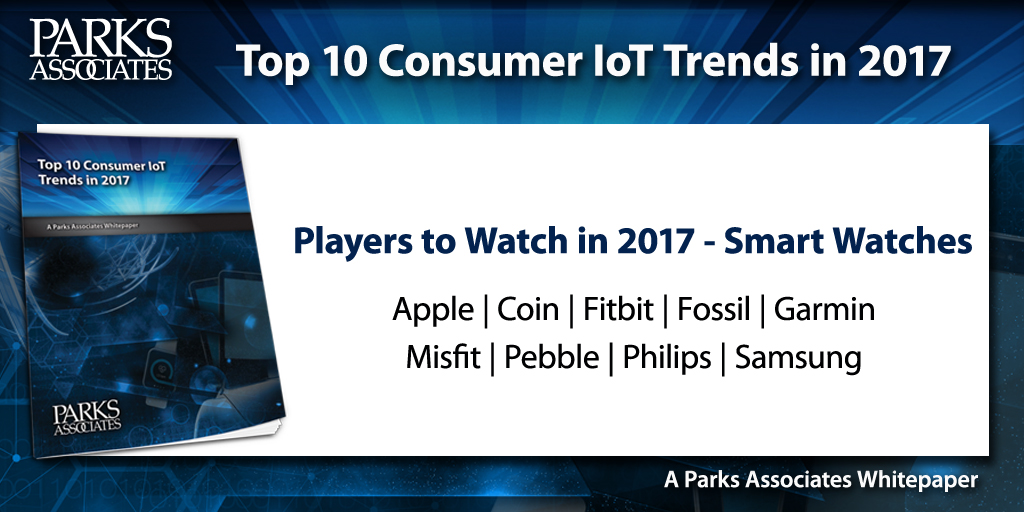 Additional research on wearables can be found in Parks Associates' report Leading Smart Watch Apps: Insights into Wearable Use Cases.
Download the new whitepaper for a full explanation of the Top 10 Consumer IoT Trends in 2017:
Voice control is vying to become the primary user interface for the smart home and connected lifestyle.
The smartphone market plateaus, and mobile carriers experiment to retain subscribers, which will threaten fixed broadband services.
CE manufacturers focus on new product categories and ecosystem strategies to compensate for stagnation in a mature market.
Virtual and augmented reality gain a foothold in niche operations and greater awareness among early adopters, creating opportunities for social VR experiences.
The differences between on-demand and live viewing continue to blur as consumers embrace a variety of OTT video services.
Consumers increasingly expect connectivity in their cars, but pricing, safety, and data privacy concerns inhibit market growth.
To cross the chasm, the smart home industry will continue to develop new use cases for security, peace of mind, and energy management.
Insurers are exploring new business opportunities in smart home products and services and will continue to launch trials and new partnerships.
Wearables and smart watches are expanding as healthcare tools and will be integrated with other IoT applications.
Consumerization of healthcare services and devices drives integration with smart home ecosystems and new business models.

Further Reading:
Next: The connected car game: Telcos are big winners
Previous: Nissan Hints at Cortana News for CES Keynote

Comments
Be the first to leave a comment.
Post a Comment