Today's Healthy Consumer: COVID-19, Independent Living, Remote Monitoring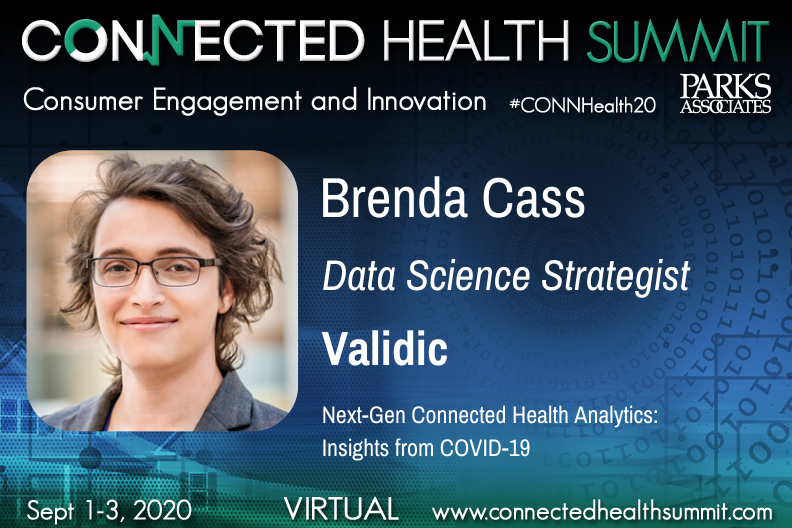 Ahead of Parks Associates' upcoming Connected Health Summit on September 1-3, we asked Brenda Cass, Data Science Strategist for Validic and a speaker at the conference, to share her insights with us on today's connected health market:
How has COVID-19 impacted the connected health markets?
Primary care offices across the U.S. are seeing reductions in the patient volume of more than 50%, due to fear of contracting COVID-19. This is a huge opportunity for the connected health market to help those organizations make up for their losses.

How have consumer attitudes towards connected health solutions shifted in the last year?
COVID-19 has changed everything about how we live and work. The need for remote care for mental and physical health is growing, and telemedicine visits are becoming increasingly popular.

Will shifts in consumer behaviors related to fitness, wellness, chronic care management, and care for senior populations outlast the COVID-19 crisis? How can solution providers keep consumers engaged over the long term?
Between the efficiency and scale gains for health organizations, and the agency that generating and monitoring your own health data gives patients, there is a good chance for trends kicked off by COVID-19 to stick around. Solution providers should focus on streamlining their onboarding process. The biggest risk to health organizations' continued use of the remote solution after the crisis is a failure to enroll a critical mass of people to make it worth the investment.

COVID-19 exposed the vulnerability of our senior population -- how can independent living solutions best meet the needs of seniors and caregivers?
Seniors with a chronic condition who are self-isolating due to COVID-19 may find their conditions worsening over time without those critical check-ins and touchpoints with their provider. Remote patient monitoring combined with virtual check-ins can replace many of the current inpatient visits related to adjusting and managing treatments.

The healthcare economy has been severely disrupted in this crisis, but regulations and reimbursement for connected health solutions are trending positive -- how will these competing forces impact the growth of the connected health market?
With financial reimbursement available to support remote care, providers can use CPT Codes for quick deployment and scaling of RPM programs. These codes provide a financial structure for physicians and qualified medical professionals to be reimbursed for the time spent and the equipment used for patient care delivered remotely. In many ways this simplifies the cost benefit argument for providers and gives them a clear line of sight to how a dollar spent on connected health solutions translates into a dollar earned on providing care.

Next: Remote Connected Healthcare is Mission Critical
Previous: Independent Living Solutions and COVID-19 - Insights from Care Planning Institute

Comments
Be the first to leave a comment.
Post a Comment