The Wild West of OTT Distribution - Revry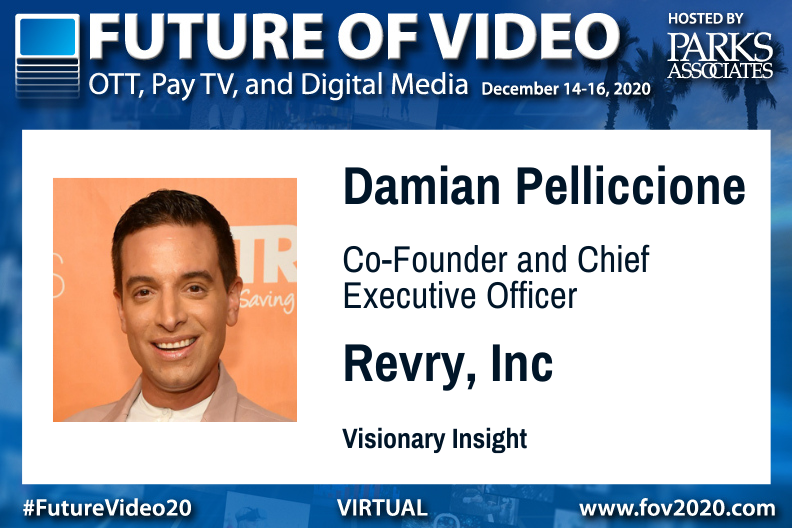 Damian Pelliccione, Co-Founder and CEO of Revry, Inc, will join Parks Associates as a keynote speaker at the upcoming Future of Video conference on December 14-16.
The Future of Video: OTT, Pay TV, and Digital Media conference brings together industry leaders to share insights on new trends in the video and connected entertainment industries, with insights on consumer behaviors and preferences and the challenges for the video industry in meeting these expectations. Revry shares insights with us on ad monetization in OTT, the impact of the pandemic, and how OTT players are adjusting to the "Wild West" of OTT distribution:
What is the impact of the pandemic on consumer viewing and your business?
The pandemic has dramatically increased the traffic across all of our channels and apps. We believe that this is due to the fact that, in addition to having more time on their hands, COVID-era audiences are more interested in exploring new types of content and newer platforms.
What major changes are taking place for video distribution this year?
Providing more options for viewing content is definitely a smart strategy. For instance, this year Revry debuted the first "tribrid" platform–meaning that viewers can choose to watch free live TV, free on demand with commercials (AVOD), or subscribe for commercial-free on demand viewing.
As consumers and ad revenue transition to streaming services, what steps are needed to properly monetize advertising in OTT?
Obviously maintaining good viewership with engaging content is important but it is more complicated than that. Many technologies are required to effectively monetize this viewership. In addition oversight of these technologies is key. This is more difficult than it looks and requires steady vigilance as well as a keen eye to reading data.
What recent entrants are threatening the OTT SVOD space? Why?
Advertising supported options are the biggest competition to SVOD only services. We're seeing this with the success of platforms like Tubi and the emergence of new ad-supported platforms by big players like NBCUniversal (Peacock). PVOD or Premium Video on Demand–the Mulan model whereby viewers are required to subscribe to a service and pay a one time viewing fee–is an interesting addition to the equation. Whether this will bring audiences closer to SVOD or drive them away, remains to be seen.
How is the shift to online video consumption pushing traditional players to adjust strategies?
First off, this shift is definitely giving the major players a kick in the pants. Gone are the days when the tried and true models for distribution (theatrical, TV, cable) are self-evident as the best strategies. This is the wild west of distribution and no one, neither the big or the small players, necessarily know which model is the best. In many ways this uncertainty levels the plainfield for the smaller services.
What trends do you see in video aggregation? Which players are best positioned to succeed?
One trend we see is the movement toward more ad-supported distribution. Another interesting trend that we've noticed is in the aggregation of established brands as opposed just aggregating the individual pieces of content. The value of HBO Max retaining the branding of Adult Swim and TBS, for example, is a sign that these identity-driven brands are perhaps better indicias of quality and point of view than individual titles.
What are the benefits and challenges of OTT aggregation for services?
The biggest advantages would be the access that OTT distribution provides–all you need is a connected TV or OTT device and an internet connection to view. The biggest challenge would be training audiences to migrate to these new ecosystems because, while many people already have access to these services via their smart TVs, not all are aware of it.
How critical are free trials in the customer acquisition phase for OTT services?
They can be critical if there are no other free options for consumers. But offering a free trial may be less important if a service already has a robust offering of free content that can introduce a consumer to the ecosystem without requiring too much initial investment.
What are the key drivers of customer churn? What are the best practices to better engage and retain customers?
Content is always key but what retains viewership has more to do with how you use that content. It's all about being able to read the psychology of your audience–identifying a need and providing a solution to that need via programming.
How is your company using data and analytics to help overall business operations, customer acquisition, and retention efforts?
We are looking at content that performs well, and finding more ways of understanding each consumer's tastes and preferences so we can optimize recommendations. The data also very much affects how we program our live channels and what content is highlighted for primetime viewing.
What are the key factors that have driven the growth in ad-based services? How they fit within the today's OTT service space?
The first factor that has driven ad-base services is the overproliferation of subscription only services. There are only so many SVOD services that one person can subscribe to before the overall cost becomes prohibitive. The second factor driving ad-based services is the advertisers themselves, specifically their willingness to venture out of their comfort zone and venture into this ad-supported OTT space.
How can partnering strengthen a service's position in an ultra-competitive market?
Partnerships are definitely key to what we do at Revry. These partnerships run the gamut and include everything from technology partnerships, to distribution partnerships, to community partnership (e.g. LGBT Centers), and–of course–content partnerships (e.g. Distributors). True meaningful partnerships definitely help to endear the partners to the brand and add a personal element to the venture.
What types of partnerships are you utilizing to gain market share?
Our partnerships with Advertisers have helped our mission to bring diverse LGBTQ+ content to the world–this adds to our bottom line and expands our market share. Additionally, content partnerships help us gain excellent and interesting content which increases the uniqueness of our platform and its offering.
How are services adapting to current challenges related to COVID-19?
Well some are doing this better than others but we believe that providing content that is free and accessible is key.
Join us at Future of Video! Register now.
Next: Trends in Video Aggregation - ContentWise
Previous: The Shift to Online Video Consumption - You.i TV

Comments
Be the first to leave a comment.
Post a Comment