The Value of the Smart Home - Insights from Tuya Smart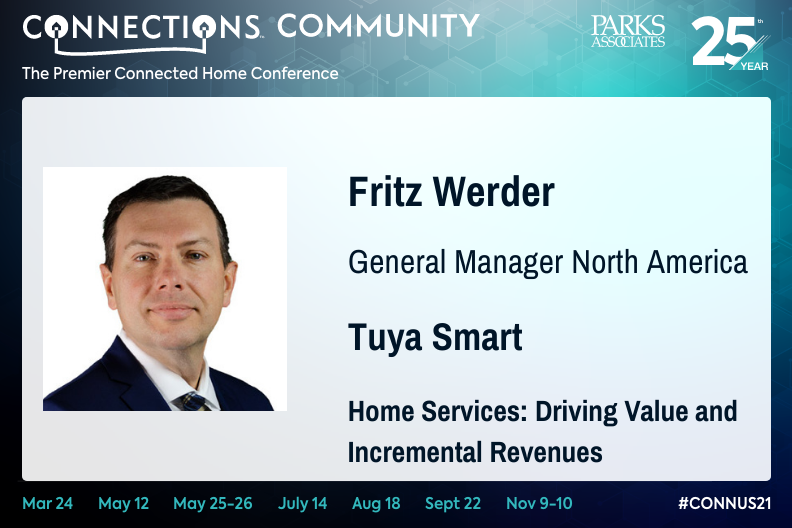 Parks Associates' 25th annual CONNECTIONS: The Premier Connected Home Conference continues on Wednesday, May 25 with the sessions, Home Services Opportunities, and Sensor Innovation and AI – Driving New Use Cases. Fritz Werder, General Manager North America, Tuya Smart, is featured as a panel member during the session, Home Services Opportunities, where he and other panel members will address how new broadband and home security services can drive value and revenue. Prior to the session, Fritz provided insights on how security and smart home adoption has shifted due to COVID-19:
As more consumers spend more time at home than ever due to social distancing efforts and other household behavior shifts, how have the key drivers for security and smart home purchase changed in the last year or two?
The most obvious is ecommerce as a vehicle for consumer research and purchases which has accelerated by at least 5 years. It was already growing across pure play ecommerce sites like Amazon and Wayfair, but even brick and mortar retail chains saw a massive surge due to the pandemic, especially for smart home and security products. The DIY crowd gets all of their information online.
What are some of the new home services that manufacturers are introducing to extend the value of smart home devices in ways that add convenience to consumers' lifestyles? What key challenges impact each service?
Monitoring services, like Tuya's new integration with Noonlight, provides the ability for brands and consumers to have self-monitoring within the app to notify police and fire in case of an emergency. Sensor monitoring, video monitoring, and video services, including storage and playback in the cloud instead of on a local device, are key features. Video pushing is another popular service. Video from your smart doorbell can be viewed on an app, a smart TV, or tabletop device adds value to the end user experience. Another emerging area is smart kitchen appliances. While cooking you can access numerous cloud recipes to make sure you have the right ingredients on hand.
One challenge for home services is subscription fatigue. Remember when there was just Netflix? Now there's Disney+, Apple+, HBO Max, and so on. Paying a monthly subscription fee for security services to protect your home is an important investment, but then each additional subscription fee can be draining and cause subscription fatigue. Finding the right balance between subscription services and ala carte subscriptions, where you can pick and choose, is a benefit to both businesses and consumers.
How are smart home products and services evolving to serve multidwelling unit (MDUs) markets? What key challenges and opportunities are manufacturers facing?
Within the Smart Apartment segment, everything starts with access control, at the unit level and for common areas. Smart door locks are the number one product category, followed by thermostats, lighting, switches, and water leak sensors. Now, the integration between the smart apartment platform to the property management system creates a seamless move-in/move-out process when a lease expires, helps in controlling common areas, and scene settings to greet prospective tenants adds additional value. Self-guided property tours became a necessity during the pandemic, creating a frictionless touring experience for vacant apartments. Package delivery services also gained critical importance in regard to secure storage, timely notifications, and easy retrieval.
Some challenges facing smart apartment solutions include the interoperability of networking protocols because apartments are more like a commercial space. Wi-Fi sometimes won't work, the internet isn't connected, environment is highly concentrated causing bandwidth issues. Mesh technologies end up being more popular. Network deployment is the challenge. MSOs are installing the network, might not be the ones installing the smart products.
The opportunity here lies in getting property owner/managers to change their mindset from individual product transactions to thinking in terms of an entire SaaS solution. Tuya's Smart Apartment SaaS solution provides technology support, operational efficiencies, a user-friendly dashboard to easily manage multiple properties, and integration with other property management systems which adds value to the property and allows for increased rental rates.
Join us for our 25th annual CONNECTIONS Conference! Register Now
Next: Parks Associates' CONNECTIONS Conference Continues with Executive Insights on New Services, Smart Home Use Cases, and More.
Previous: Parks Associates' 25th Annual CONNECTIONS Conference Returns with Insights from Experts in the Smart Home Space

Comments
Be the first to leave a comment.
Post a Comment