The State of 4K Technology Today
by Kaitlin Hawkins | Mar. 12, 2014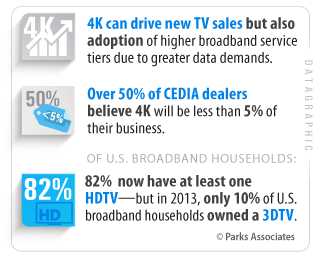 Parks Associates recently release special new research on the state of the TV technology market, specifically as it applies to 4K adoption. The research report, "4K Today: Bringing Ultra HD to Market," finds that 50% of CEDIA dealers believe that 4K technology will make up less than 5% of their business.
The new report focus analyzes the current trends affecting 4K adoption in the United States, including the current status of content production and how OTT services impact Ultra HD.
For more information on the findings in this report, click here.
Next: Consumers Expect Full-Feature Service, Even for OTT
Previous: Half of Video Consumed on a TV Comes from Non-Linear Source

Comments
Be the first to leave a comment.
Post a Comment