The Smart Home Market Thrives on Owners of Security Systems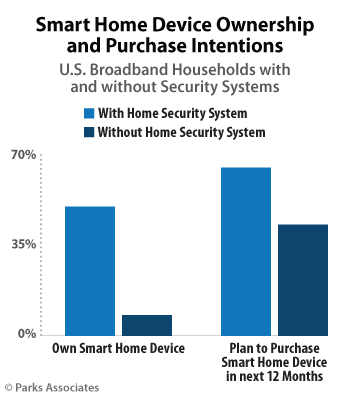 Not too surprisingly, securing one's home is a higher priority for those who own compared to those who rent. Recent Parks Associates research found that nearly 25% of U.S. broadband households have a working and active security system, and that homeowners are far more likely to have security systems than renters. Today, 64% of U.S. broadband households own their own homes—among the 25% of broadband households who have a working security system, over 80% own their own home. Only 15% of all installed systems are in rental homes.
A small portion of renters are renting single-family homes where a security system exists in the home and is adopted at the renter's discretion. This disparity explains introductions of DIY systems by players such as ADT and Comcast, which move with the renter. Renters do not seek to invest cash for a system that becomes attached to the home. Moreover, renter incomes are, on average, lower than owner incomes. This is particularly true for upper-income brackets, with some exceptions for luxury high-rises in major metropolitan areas.
Single-family detached homes and townhomes contain 86% of all active security systems. Again, these home types are not only more often owned, but also more often owned by higher-than-average-income households. Security systems are present in almost 30% of single-family detached homes and townhomes, with the majority in the single-family detached homes. Less than one in ten rentals has a security system at all.
The smart home market has thrived on owners of security systems, with 65% of U.S. broadband households owning a security system planning to buy a smart home device within the year. The most popular smart home devices are networked security cameras, and these connected devices have made security the strongest channel for smart home devices and controllers. Among U.S. broadband households with a home security system, the ability to protect one's home while traveling is the top driver for their security purchases. Remote access capability is also very influential in motivating their security purchases—nearly 40% of home security households claim this feature as a key driver for their security ownership.
While smart home offerings and economic recovery have helped revitalize the market opportunity, Parks Associates does not anticipate dramatic growth in terms of overall percentage served. With home ownership at 64%, once high-rises, gated condos and cooperatives, and rentals are removed, this equates to 50% penetration of owned dwellings.
For more information on the current state of or future growth of the security market, see the industry report The New Face of Home Security - 2015 Edition.
This article originally appeared in SMAHome.
Further Reading:
Next: Impact of IoT on U.S. and European Insurance Industries – Complimentary Webcast
Previous: IoT Mass Market Adoption: Impact of Interoperability & Ease of Use

Comments
Be the first to leave a comment.
Post a Comment