The Smart Home Connectivity Battle
by Patrice Samuels | Jun. 3, 2019
In January, a little over a month after the device became available, Amazon pulled the Echo wall clock from store shelves, citing connectivity issues. Similarly, in February Arlo pulled its 4K security cameras from store shelves, approximately one month after the product was released. The security cameras were pulled after a series of firmware updates failed to completely address the issues reported by early adopters, including connectivity, streaming quality, and battery life issues.
In April, August Home announced that it was halting shipments of its new video doorbell. This decision was made just two weeks after the product became available to consumers. The company cited "performance issues in certain user environments" as the reason for pulling the video doorbell. Some customers reported experiencing connectivity and streaming issues with the device.
Why have connectivity issues have lingered?
Issues with connectivity are the leading problems consumers face when setting up devices, as well as the leading problem consumers experience after setting up their device. Connectivity issues have lingered, in part, because they are complex and brands do not have complete control over the experience. Outside of the device technology, other factors affect a device's ability to maintain a reliable connection to the internet. These include the configuration of the consumers existing home network router, issues with the mobile device that bears the control app, the consumer's internet speed and coverage throughout the home.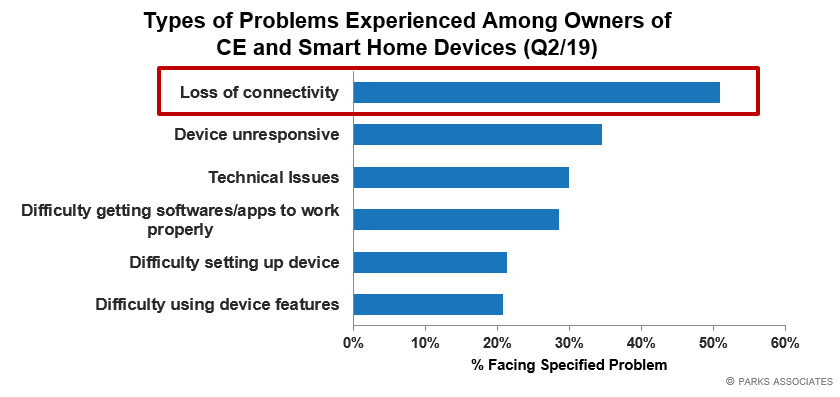 Who bears the burden of addressing connectivity issues?
Since the issues around device connectivity are so complex and multiple entities impact the reliability of a device's connection to the internet, a common industry question is who should bear the responsibility of addressing technical problems such as these throughout the home. At a recent Parks Associates CONNECTIONS conference, industry experts almost unanimously agreed that the consumer will bear the greatest burden—at least in the short run. Though the issues remain complex, the best option for minimizing the experience of connectivity issues and ensuring better customer experiences is to monitor the home network.
A group of companies called network monitoring providers are now emerging that monitor and manage consumer home networks. The primary focus of these solutions include:
Maintaining reliable Wi-Fi connections
Optimizing home network performance to guard against weak signals and slow speeds
Promoting good coverage throughout the home and eliminating dead spots
Protecting the network from security threats

These providers offer solutions directly to consumers or through service providers, which may offer solutions to their customers as a value added service option. These are often paid services, ultimately allowing the consumer to bear the burden of maintaining reliable home network connectivity.
Parks Associates' report, Support Services for the Connected Consumers, examines new services emerging to support the connected consumer.
Further Reading:
Next: LG Introduces Next Generation Appliance Support
Previous: Cognitive Support Webcast Overview

Comments
Be the first to leave a comment.
Post a Comment