The Shift to Online Video Consumption - You.i TV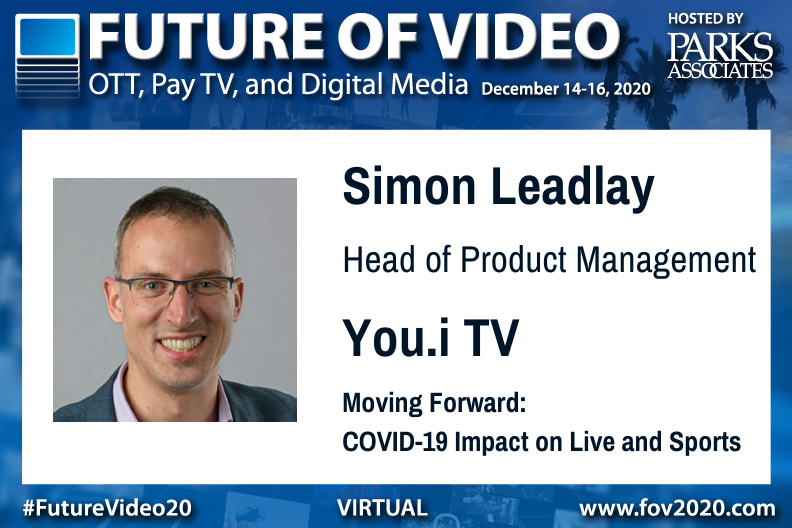 Parks Associates' upcoming Future of Video: OTT, Pay TV, and Digital Media conference on December 14-16 brings together industry leaders to share insights on new trends in the video and connected entertainment industries. Simon Leadlay, Head of Product Management at You.i TV, shared thoughts with us on the OTT industry's shift to online video consumption:
How is the shift to online video consumption pushing traditional players to adjust strategies?
There are two types of traditional player: media companies who historically sold content without a direct relationship to the viewer, and pay TV operators who historically took sole responsibility for the customer relationship and content aggregation. Both of these groups are having to modify their stances now. The media companies are now in a race to build high-value direct-to-consumer services in order to deliver their content directly to the viewer, removing the aggregation step previously imposed by the pay TV operators and their networks. This involves dramatically rethinking the structure and strategy of these traditional studios, requiring them to think about consumer electronics platforms, user-interface design, and app development. The best of them are becoming tech experts and are working towards complete self-sufficiency. Meanwhile, the pay TV operators are still responsible to a global audience of over 1 billion subscribers, many of whom still like the aggregation and the content-recommendation role that the operator plays. However, in a world where the media companies are moving to direct-to-consumer apps, the smart operators are holding onto their partners and bringing their new DTC apps to the legacy set-top box so that the subscriber continues to see value in their aggregated pay TV subscription. Again, this requires new investment in technology and a more-flexible and iterative approach to delivering services to the market.
What are the key factors that have driven the growth in ad-based services? How they fit within the today's OTT service space?
One of the main factors is the payment fatigue felt by cord-cutting viewers. Research has shown that most consumers won't pay for more than 4 or 5 services per month. After that point, if you are a niche-market video provider, or if you're a new entrant who would like to get your content catalog as widely distributed as possible, then having no upfront cost or possibly even no registration process will streamline your path to market. Ad-supported services have been the backbone of television for decades, so the business models are well-proven and are revenue-generating. However, consumer acceptance of traditional linear advertising — ad breaks that interrupt the flow of the content — has dropped dramatically. Today, ad-driven services are in need of innovative non-interruptive ad technologies: subtle graphical overlays, squeeze-screen experiences, pause-screen ads, or branded user interface takeovers. With these kinds of ads, the brand gets woven into the experience, the viewer isn't interrupted and annoyed, and the service can still be financially successful.
Register now for the Future of Video conference.
Next: The Wild West of OTT Distribution - Revry
Previous: Households with Children Are Powerful Tech-Buying Segment

Comments
Be the first to leave a comment.
Post a Comment