The Rise of Smart Wi-Fi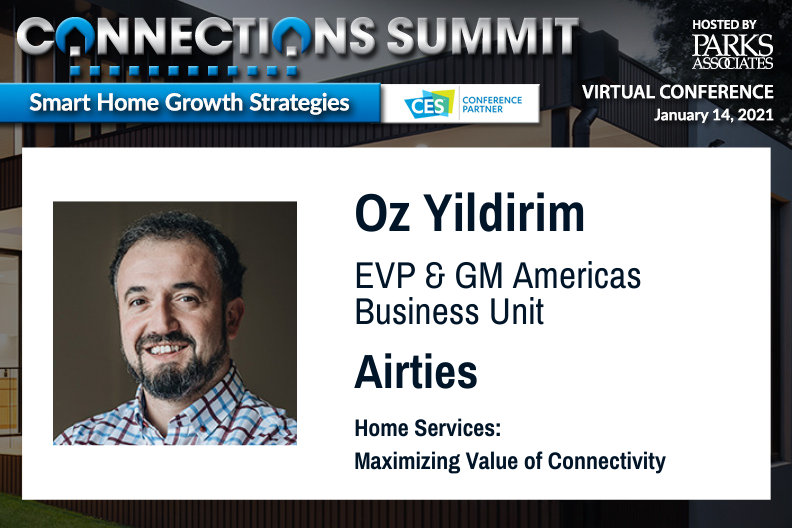 Parks Associates is holding the CONNECTIONS Summit at CES online on January 14. This executive event features panel discussions on the smart home, Internet of Things (IoT), and connected entertainment, analyzing trends and implications for connected consumers and opportunities for companies to build new revenues and innovative business models.
Ahead of the conference, we asked Oz Yildirim, EVP & GM Americas Business Unit at Airties, to share his insights with us on the smart home and how it has adjusted during the pandemic. Here's what he had to say:
Question: The new work from home situation has put an enormous strain on home networks. How can service providers address this to better serve their customers?
Answer: The pandemic has made reliable, fast home Wi-Fi more important than ever, with the rise in remote working and learning, telehealth, home entertainment, and super-connected homes. And Internet service providers play the central role in keeping us all connected and productive. As a result, we have seen—and expect to continue to see—accelerated adoption of Smart Wi-Fi solutions in three key areas: 1) the usage of cloud management platforms that dynamically optimize individual home networks, providing remote diagnostics and proactive troubleshooting; 2) upgrades to field-deployed gateways with Smart Wi-Fi software that intelligently directs consumers' devices to the best bands and channels based on real-time network conditions; and 3) the roll-out of Wi-Fi 6 devices, gateways and extenders to support the growing density of connected devices, delivering faster speeds, lower latency, and reduced interference. In the year ahead, we expect these to come together through greater adoption of hybrid cloud-edge architectures that leverage both the embedded intelligence in customer premises equipment (CPE) and the cloud to maximize responsiveness and performance.
Register now for CONNECTIONS Summit at CES.
Next: Smart Home Expectations for Senior Market Solutions
Previous: Home Services: Maximizing Value of Connectivity

Comments
Be the first to leave a comment.
Post a Comment