The Rise of Ad-based OTT Services
by Steve Nason | Nov. 13, 2019
Usage of US ad-based OTT services has traditionally lagged far behind adoption of SVOD services. However, with Viacom's high-profile acquisition of Pluto TV, Sony's reboot of Crackle, and NBCUniversal's announcement of an AVOD service to launch in 2020, momentum for ad-based services is picking up some serious steam. As video consumers continue to stack OTT subscriptions in order to round out their online video content portfolio, their wallets have taken a severe hit. As a result, consumers seek free services to fill in gaps in content.
With the increased demand and acceptance of ad-based OTT services, though, there are some growing pains. So far, no individual service, or even a group of services, has been able to differentiate itself from the pack. Video consumers are not experiencing the unique programing or features that make a service a primary source for video content. Almost all current ad-based OTT viewers are also either SVOD service subscribers, traditional pay-TV service subscribers, or both. In addition, ad-based OTT users do not perceive the content of ad-based OTT as having the same quality as SVOD or traditional pay-TV service content. That quality is what makes consumers willing to pay a recurring monthly cost. Finally, while a segment of ad-based OTT users accepts ads, many others struggle to accept ads as part of their viewing experience even if the service if free. The allure of an ad-free OTT service is still strong.
Despite these potential impediments to growth, ad-based OTT services are here to stay. As the purse strings of OTT consumers tighten, there is tremendous opportunity for free ad-based services to thrive. A service can establish a foothold in this space by delivering a unique offering of high-quality content in an engaging ad-based environment. According to Parks Associates research:
In 2019, nearly one-third of broadband households access ad-based OTT services, up from 24% the previous year.
The Roku Channel and Crackle are the leading ad-based OTT players, but only 6% of broadband households use these services.
Lack of cost is the primary reason viewers use ad-based OTT services while ease of use and a wide variety of quality programming to watch are also more common reasons for usage.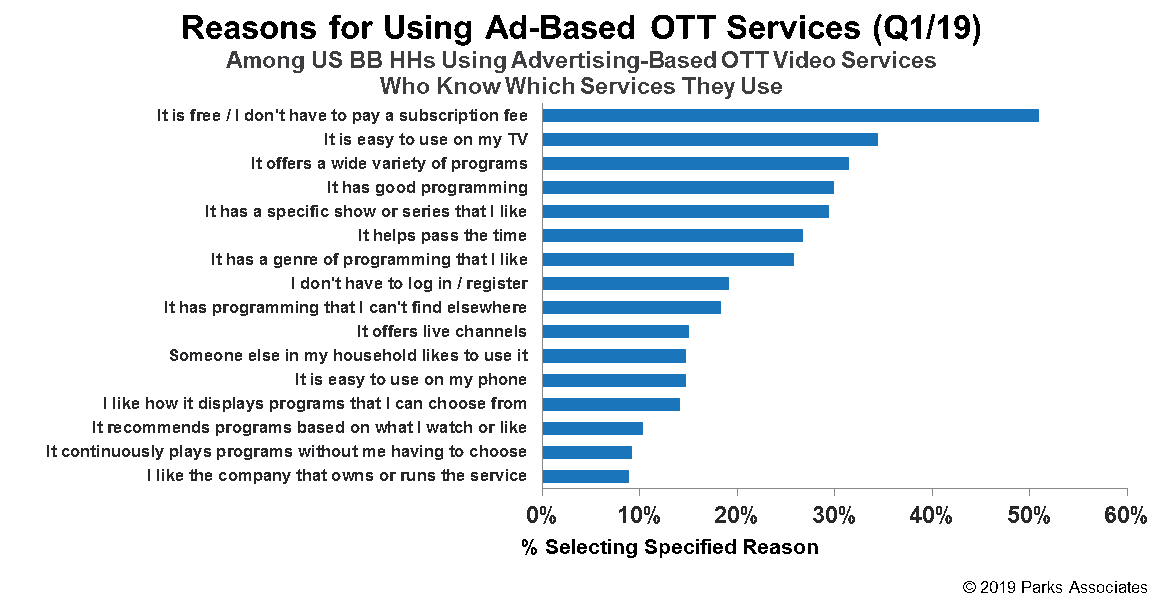 For a deeper look into ad-based OTT services, check out the recently-published 360 Deep Dive – Ad-Supported OTT: Viewers and Use.
Further Reading:
Next: OTT Video Services Expand to Smart Displays
Previous: AT&T's WarnerMedia Places Max Bets on Upcoming SVOD

Comments
Be the first to leave a comment.
Post a Comment