The Internet of Things Promises Opportunities & Risks for Industry Players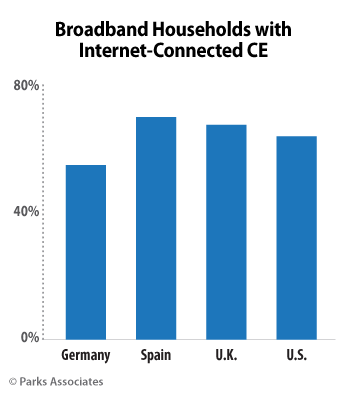 For consumers around the world, the Internet of Things (IoT) opens the door to a new and convenient connected lifestyle. IoT encompasses a broad range of home-based devices and services, including smart home devices and services, connected entertainment devices, entertainment services, connected health and fitness devices, mobile devices, and connected cars.
Parks Associates research shows:
China is the largest broadband market in the world.
In North America, 50% of broadband households are expected to own a connected health or fitness device by 2018.
Gaming consoles are the most connected home entertainment device.
In 2014, 21% of U.S. broadband households and 17% of all U.S. households subscribed to a professionally-monitored security service.

IoT growth in broadband households opens up opportunities for companies to sell products and services. Not only will the companies developing, manufacturing, and marketing products benefit, but ancillary industries, such as support services, will find new opportunities in a more complex consumer technology world.
However, the opportunities of smart products and the connected lifestyle also create risks for both companies and consumers in terms of privacy and security. Device manufacturers utilize data and analytics to generate revenue streams but there are inherent risks.
While consumers appreciate the convenience that comes with increased connectivity, they are more than ever aware of the potential risks. Nearly 60% of broadband households report having privacy concerns about using connected devices. Smart home devices have the capability to communicate with each other and share data. Connected cars can collect driver behavior data that could potentially be shared with insurance companies. Devices with cameras and microphones, such as TVs, can record viewed video—even personal videos—or conversations in the home.
There exists potential for hackers to gain access to a connected health product, such as a connected glucometer or heart rate monitor, and change device settings, or access to acceleration or braking systems in connected cars—the results could be devastating.
As the IoT grows and presents new opportunities for companies, those same companies need to be cognizant of the risks and consumer concerns and find the sweet spot that supports both revenue generation and end-user privacy and security. Parks Associates provides strategies for all players in the emerging Internet of Things market in its Q1 2015 report Global Connected Living Outlook: The Era of IoT.
The Internet of Things will be a major subject at the 19th-annual CONNECTIONS Conference, with keynotes from Comcast Cable, Nest, Samsung, and Verizon. For information on sessions and speakers, visit www.connectionsus.com.
Further Reading:
Next: Factors Driving IoT Development and Adoption
Previous: Interoperability Considered Very Important by Consumers with Smart Home Devices

Comments
Be the first to leave a comment.
Post a Comment