The Future of OTT Services in the US
by Michael Tuck | Apr. 10, 2019
2019 began with 235 OTT video services operating in the US, not including services available through single aggregators such as VRV, Roku, or Amazon Channels. This figure speaks to the massive shift in content consumption since Netflix's streaming video introduction in 2007. While the net service count in the market has seen a CAGR of 23% from 2013 to 2018, growth has slowed considerably over this time period, from a high of 24% in 2015 to just 1% in 2018.
This slowdown in growth is due primarily to three factors:
a decrease in the overall number of new entrants
service launches from heavy-hitters
an increase in consolidation/services exiting the market
The combination of these factors may result in 2019 becoming the first year with a net decrease in the number of standalone streaming options available to consumers.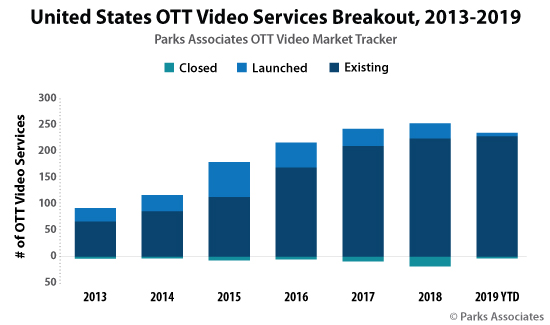 While the total number of launches in 2018 was relatively low, Warner Bros, Turner, Disney, and Warner Media all offered new services via DC Universe, Bleacher Report Live, ESPN+, and Watch TV, respectively. Disney, Apple, and Warner Media will offer additional services in 2019 via Disney+, Apple TV+, and Warner Media's unnamed tri-tiered service. These upcoming offerings, bolstered by large reserves of popular content and notable content producers, will continue to fuel completion in the space and likely result in more service closures throughout 2019.
Although households are increasingly subscribing to multiple OTT services, there is a limit to how many the average consumer can sustain. The previously mentioned heavy-hitters will exacerbate the rate in service closures/consolidations by drawing subscribers away from incumbent players. While these new services should contribute to an increase in the number of OTT subscribing households, the number of services available will likely experience the inverse.
Powerhouses like Amazon, Roku, Apple, and even VRV seek to capitalize on the existing services available by aggregating the staggering number of options into a more palatable experience for consumers. These companies hope to have an edge in this next phase of the streaming war by offering – or preparing to offer – streaming services of their own while also providing a point of aggregation for consumers.
Expect to see continued decline in the number of service launches and an increase in service closures as the year progresses. Whether these factors will result in a net increase or decrease in options available by year-end remains to be seen.
For more information about Parks Associates OTT Video Market Tracker and subscriber estimates for individual services, please contact Stephanie Heeney at sales@parksassociates.com.
Further Reading:
Next: Broken Trust: Facebook Data Exposure Reinforces Consumer Privacy Concerns
Previous: Whistling Past the OTT Video Graveyard

Comments
Be the first to leave a comment.
Post a Comment