The Expanding Landscape of Tech Support Opportunities
The connected home phenomenon - where products and services are linked together to share computing resources and information - is reshaping the competitive landscape among service providers, retailers, and consumer electronics companies.

The lines that defined and separated the different roles for each consumer product have blurred. No longer does a service provider remain the sole provider of communications or entertainment services. A retailer or OEM may have been the primary beneficiary of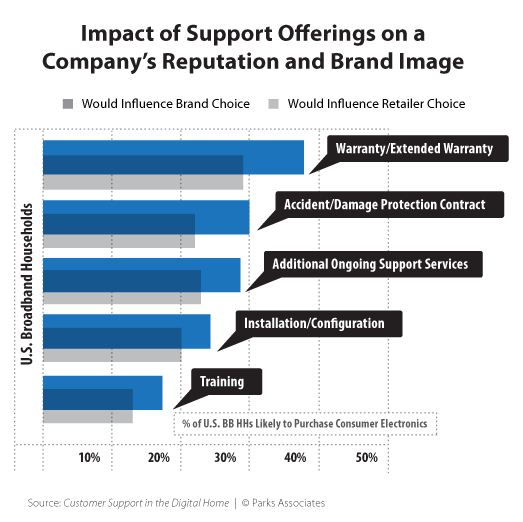 extended warranty revenues; now, some service providers are offering these plans as part of their premium tech support services. These changes are creating new opportunities to provide tech support services to consumers to help manage/support these devices in the home.

Stakeholders in the connected home are focused on building consumer services that offer improved customer satisfaction, differentiation, increased revenues, and long-term relationships with their end users. Technical support services, if properly implemented, can deliver these benefits.
Parks Associates' research finds 73% of U.S. consumers with access to tech support services from their broadband service provider rate satisfaction with the service as very high, compared to 62% of broadband subscribers overall.
To read more from "The Expanding Landscape of Tech Support Opportunities" issue, subscribe to the complimentary Parks Points Newsletter.
Next: Stay up-to-date on the Connected Home Markets
Previous: Webcast: Emerging Distribution Models for Online Entertainment

Comments
Be the first to leave a comment.
Post a Comment