The Evolution of Connected Health Solutions - Insights from Clear Arch Health on the Connected Health Market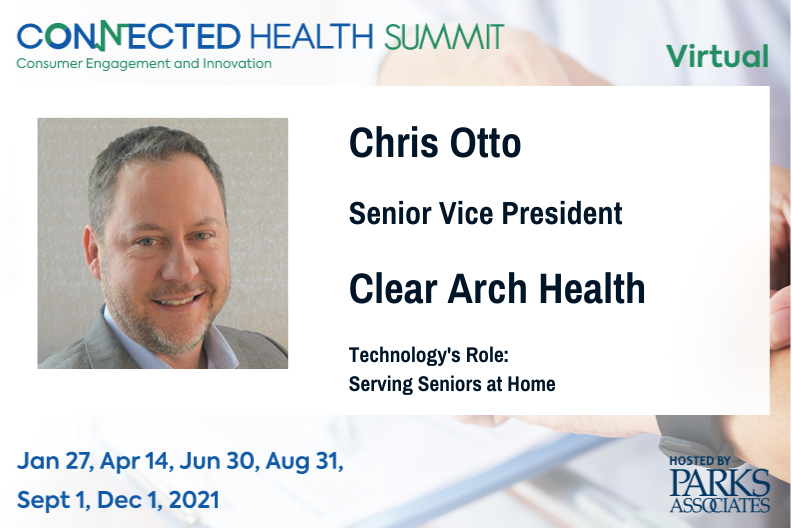 Parks Associates continued its 2021 virtual Connected Health Summit with a session on April 14, Leveraging the Smart Home for a Healthy Home, and Seniors and Caretakers: Serving A Massive Population at Home. Chris Otto, Senior Vice President, Clear Arch Health, joined other industry leaders during the session as an interactive panel member of Seniors and Caretakers: Serving A Massive Population at Home, and contributed to the discussion of Technology's Role: Serving Seniors at Home. Prior to the session, Chris provided insights on how COVID-19 has greatly impacted the connected health market, and how consumer attitudes regarding connected health solutions have changed:
How has COVID-19 impacted the connected health market?
COVID-19 has radically transformed the connected health market. It has propelled the market forward, compressing years or even decades of the traditional adoption curve. We have seen growth in telehealth, remote monitoring, and even the demand for connected devices like thermometers, sky rocket during the pandemic. Nearly every healthcare provider has a virtual care strategy in place now. From our perspective, it has compressed client adoption of our RPM solutions. Those who may have been on the fence have now moved to adopt telehealth features including remote patient monitoring. Clients with chronically ill patients, especially, have learned that telehealth visits alone are not enough to substitute in-office visits. Video visits leaves gaps in care – they need to remotely capture vitals for their chronically ill patients.

How have consumer attitudes towards connected health solutions shifted in the last year?
I believe it has evolved, rapidly, during the pandemic. In the beginning, we saw an avoidance of any healthcare services. Wellness visits and preventive care visits dropped dramatically. And then we saw a disturbing increase in mortality rates from illnesses, unrelated to COVID-19. Providers, payers, and patients (consumers) now clearly understand the need to access healthcare outside of a traditional clinic setting. Consumers are now used to entering a business or clinic setting and scanning their forehead for temperature, and are accustomed to talking to physicians via a video visit. Even the elderly, a demographic often stereotyped as technology adverse, have readily accepted the new norm. This was, after all, a group at the highest risk during the pandemic, and consequently the most motivated to adopt new healthcare delivery models. Accepting virtual healthcare was not a barrier to them – they were happy to have access to care outside of a clinic.

Will shifts in consumer behaviors related to fitness, wellness, chronic care management, and care for senior populations outlast the COVID-19 crisis? How can solution providers keep consumers engaged over the long-term?
I believe that the pandemic has permanently changed the world. There will be some back slip and return to "normal," but never to the world we used to know. Some things are here to stay. We will likely continue to see masks, in some capacity, well after government mandates go away. Virtual meetings and a remote work force will remain a significant portion of the new "office." And I don't believe that face-to-face clinic visits will ever return to the pre-pandemic rates. Consumers have been forced to adopt telemedicine technology. And now that it is here, everyone has felt the convenience and benefits it offers. Consumers will expect choice. Solution providers must cater to a number of new delivery modalities.

And the opportunity to keep consumers engaged is endless. There will be unprecedented opportunity for AI to leverage digital health data collected from millions of people, to more rapidly diagnose new illnesses, identify opportunities to change health, and share meaningful insight to consumers.

COVID-19 exposed the vulnerability of our senior population – how can independent living solutions best meet the needs of seniors and caregivers?
This was one of the saddest parts of the pandemic. When family were separated from loved ones in nursing homes and independent living communities, it was extremely stressful for everyone – including the staff. Connected health solutions that engage patients, and invite family to participate, can deliver that needed social connection. All UI and solution designers should also adopt elderly adult user testing. This demographic is a critical part of the healthcare delivery audience.

The healthcare economy has been severely disrupted in this crisis, but regulations and reimbursement for connected health solutions are trending positive – how will these competing forces impact the growth of the connected health market?
The economy is recovering. If there is anything we have learned from this pandemic, it is the value of connected health. Remote patient monitoring and telehealth are here to stay. Policy and payers will win – as they move toward supporting connected care for both the cost savings and the benefit to patients. The focus on social determinants of health will be an increasingly important factor to ensure everyone has access to the basics needed to stay healthy, live independently, and have access to on-going medical care.
Join us this year for our Connected Health Summit! Register now.
Next: Scaling Music as Medicine - Insights from Musical Health Technologies
Previous: A Wakeup Call for the Connected Health Market - Insights from Electronic Caregiver on Digital Health

Comments
Be the first to leave a comment.
Post a Comment