The End of Google Nest Secure and the Future of DIY
by Amanda Kung | Nov. 3, 2020
Towards the end of October, Google announced the discontinuation of its three-year-old Google Nest Secure alarm system. Although Google will no longer sell its DIY home security system, it will continue supporting its current Nest Secure users. This announcement was not a big surprise, given Google's $450 million investment in security stalwart ADT earlier in August.
Google first introduced Nest Secure in 2017 as a modular home security system that was simple to install and use. It included the Nest Guard as the central hub, Nest Detect sensors, and Nest Tags to arm and disarm the system remotely. Initially, it was priced at $499, but Google dropped the price to $399 less than a year later. It also offered professional monitoring by Brinks Home Security for $19 a month.
Some of Nest Secure's successful competitors include Ring Alarm and SimpliSafe. Ring's DIY smart security system Ring Alarm is one of the most affordable options in the market. Its base price for the system is $199, and Ring charges $10 per month or $100 per year for 24/7 in-house professional monitoring. SimpliSafe sells a DIY system that it claims is one of the easiest to set up and use in the market. It offers more versatility than Nest Secure, with a variety of package and equipment and pricing options to choose from. Its least expensive package starts at $250 and professional monitoring costs $14.99 or $24.99 per month. Although Nest Secure had some compelling features, it was one of the most expensive DIY home security systems in the market.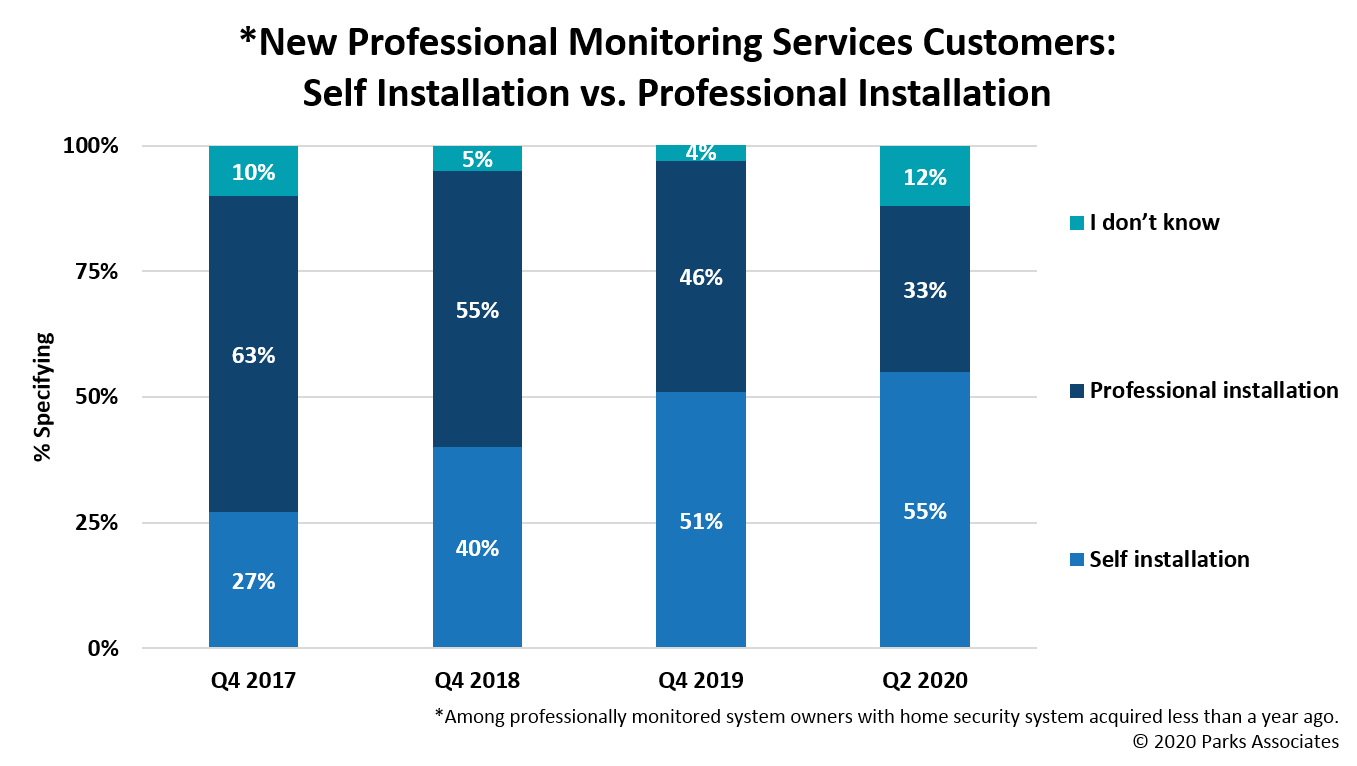 Google discontinuing Nest Secure raises questions about the staying power of the DIY security system market. Parks Associates research notes that there has been a low uptake of recurring monthly monitoring contracts in the segment. There are four different types of home security systems: Self-Installed/Self-Monitored, Pro-Installed/Pro-Monitored, Self-Installed/Pro-Monitored, and Pro-Installed/Self-Monitored. Parks Associate research shows that in Q2 2020, 1.5% of US broadband households self-monitor, 2.4% have local alarms or no-fee self-monitoring, 27% pro-monitor, and 70% have no security. In 2019, for the self-monitored segment, there were 75% self-installed and 25% professionally installed security systems.
In contrast, the professionally monitored segment had 88% professionally installed systems and 12% self-installed systems. Although more home security systems are professionally installed, Parks Associates research shows that the self-installation of newly acquired security systems has increased dramatically since 2017, even after incorporating margin of error, which is substantial due to the low survey sample size for newly acquired systems. Parks Associates research finds self-installation of newly acquired security systems has increased from 40% in Q4 2018 to 51% in Q4 2019.
Given Google's investment into ADT, the discontinuation of Nest Secure was not a huge shock. Although both companies have declined to comment about the partnership's connection with Google's recent announcement, there will be a Nest/ADT security collaboration in the future, first by attaching existing Nest devices and later by the development of "next-generation" system. Parks Associates research also finds that self-installation for both self-monitored and pro-monitored security systems is forecasted to increase in the future, implying that there is still interest in the DIY security system market. It remains to be seen how many DIY system brands, especially those sold at retail, can get traction with consumers. Whoever they are, affordability and ease-of-use will be table stakes.
For a deeper look at the DIY security space, please check out Parks Associates' DIY Trackers.
Next: Value-Added Services for the SMB Segment
Previous: MSOs Face Revenue Opportunities in Support Services

Comments
Be the first to leave a comment.
Post a Comment