The Crunchyroll / Twitch.tv Partnership Could be the First of Many
by Hunter Sappington | Jul. 27, 2017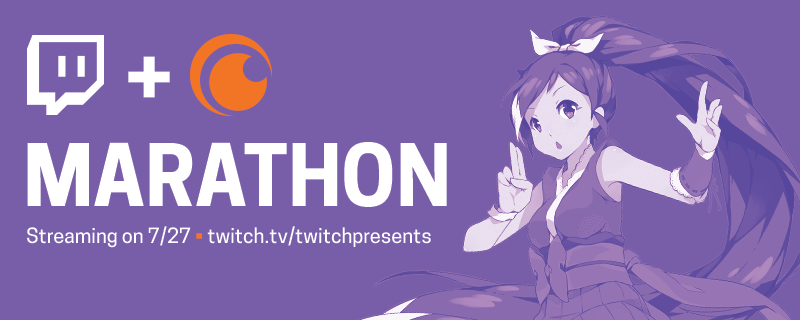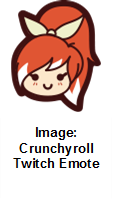 Crunchyroll is partnering with Twitch.tv to offer a 6-day Crunchyroll marathon on the gaming-focused live streaming platform. The marathon started today on July 27, and it will run back-to-back episodes of entire series 24 hours a day for nearly 20 different anime hits. The episodes are free to watch on Twitch.tv, containing ads unless viewers are Twitch Prime subscribers (either purchased separately or as an added benefit of being an Amazon Prime subscriber).
Viewers are able to live chat with one another as they view the episodes, and Twitch has made an emote of the Crunchyroll mascot available to all Twitch users to use in the chat for a limited period of time, regardless of whether they are watching the marathon or other Twitch content. Subscribers to the "TwitchPresents" channel that the episode are streaming on during the marathon will unlock the emote permanently for use anywhere on Twitch. The availability of the Crunchyroll content on Twitch also allows for live chat, which can help build community among the viewers as they enjoy content together, something that Crunchyroll places a great deal of importance upon.
Crunchyroll's partnership with Twitch makes sense due to the similarities in the audience between the different services. The interesting part about the partnership is that Twitch is owned by Amazon, which also owns the competing anime SVOD service Anime Strike. This indicates that Amazon is letting each of its business units sink or swim on their own and benefitting one of their platforms perhaps at the expense of another.
Twitch has recently begun using TwitchPresents as an opportunity to promote and showcase partnered non-gaming content, such as the Power Rangers marathon leading up to the release of the Power Rangers movie. There may be more partnerships similar to this one on Twitch and other livestreaming platforms such as YouTube Live in the future. It may even begin to extend to other ad-based video platforms operating in the OTT space such as Tubi TV or Crackle, as paid services use free ad-based services to introduce viewers to their content.
Crunchyroll's availability on Twitch will likely increase awareness, usage, and potentially even subscriptions for the service. Furthermore, other niche subscription services may take note and look to partner with Twitch or other live streaming services to promote their content.
Further Reading:
Next: Infographic: Impact of Online Video on Broadband Consumption
Previous: OTT vs. Pay TV: Most Appealing Features for Consumers

Comments
Be the first to leave a comment.
Post a Comment