Tailwinds Prevail for Home Security in Q1, Despite COVID-19
by Brad Russell | May. 11, 2020
Security industry watchers have anxiously awaited Q1 earnings calls to see how market leaders fared as a robust start to 2020 hit COVID-19 headwinds in March. A strong 2019 resulted in 31-32% of US broadband households owning a working security system, up a substantial 5% points over 2018. Eight-eight percent of security system owners have professional monitoring, according to a Q4 2019 Parks Associates study.
The view from the top, thus far, is that the residential security business continues faring well. Though Q2 is expected to be the hardest quarter of all this year, industry leaders remain confident that the reliability of their recurring revenue business model, the growing consumer demand for security and smart home solutions, and their adaptations to the changing business climate will deliver resiliency relative to other industries.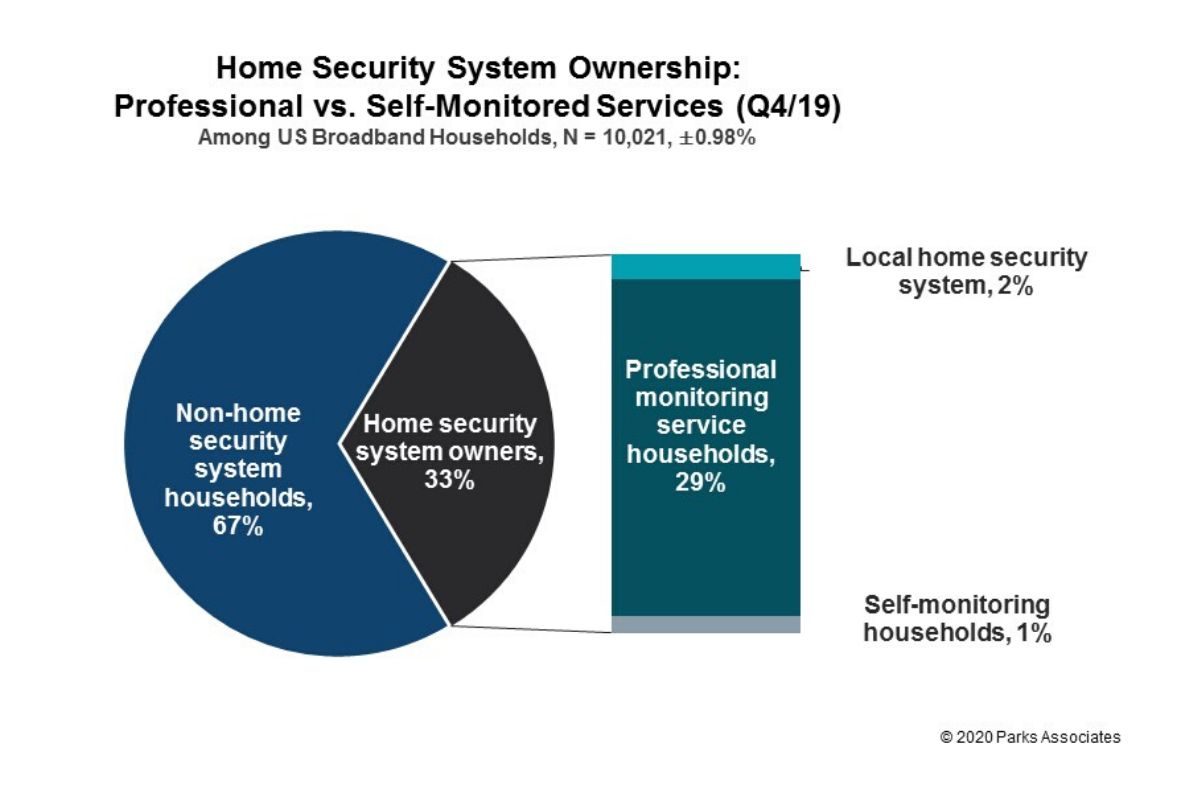 The reports are rolling in with details found here:
A few macro-industry trends continue to drive growth for the industry, in addition to the unique strategies and circumstances of individual players:
Net Adds: ADT and Vivint both report a strong Q1 start that bodes well for the industry. ADT experienced its first net adds in any quarter since 2015, buoyed by the bulk acquisition of its leading dealer, Defenders. In Q1, Vivint experienced a 7.1% increase in total subscribers (from 1.45 million to 1.55 million) along with a 2.4% increase in ARPU. Average monthly revenue per user grew to $65.27, up 2.3% YOY, attributed partially to cross-selling of cameras.
Attrition: While there's been concern that an economic downturn could drive attrition, this was not the case for ADT at the end of Q1. ADT reported, in fact, a decline in home relocations has actually helped reduce attrition, and even improved April retention above budget expectations. Unrelated to COVID-19, Vivint's attrition has trended higher than its historical averages in recent quarters, reportedly due to a higher percentage of customers that are in the end of term lifecycle phase.
Financing Programs: VVarious consumer financing programs, with banks such as Citizens and Mizuho, are reducing customer acquisition costs by offering "$0 down, 0% interest" and other financing options to consumers that enable providers to more efficiently manage capital. The programs are attractive to consumers who seek a more comprehensive home control solution with smart home devices on top of their basic security system. As COVID-19 tightens money markets, the industry expects banks to manage credit risk by slightly raising qualifying criteria. For customers still won under the traditional model of subsidized hardware, a slight decline of new subscribers in March is actually helping security companies conserve cash.
E-commerce and Inside Sales: Major security providers are increasingly leveraging data analytics to refine their e-commerce experience and redesign the sales process to improve conversion rates. COVID-19 shelter-in-place restrictions, consumer health safety concerns, and subsequent challenges for door-to-door sales and in-home consultations make investments in inside sales teams, digital tools, and direct-to-consumer sales even more important now and in the uncertain future. Vivint, whose door-to-door sales approach accounts for 50% of new subscribers, paused all direct-to-home sales in March but has begun ramping up again with new protocols for safe interactions. Because financing options are not available to the company in Canada, it has suspended its direct-to-home channel and will now sell exclusively through inside sales.
Monitoring Services and Customer Care via Work-at-Home: Central station monitoring rapidly became geographically dispersed as leading security players pivoted to enable work-from-home employees to continue their monitoring roles remotely. They are finding a boon in savings of operational overhead. ADT is already reporting that the improved productivity and employee satisfaction with reduced churn among remote workers has caused the company to start planning a long-term evolution to lower real estate, and ultimately, net service costs by leveraging remote agents.
LEARN MORE: Following a consumer survey fielding in early June 2020, Parks Associates will publish a study of COVID-19: Impact on Residential Security and Smart Home.
Next: COVID-19 and the Smart Product Market
Previous: Capturing the Smart Home Cost-Conscious Consumer

Comments
Be the first to leave a comment.
Post a Comment