T-Mobile Launches vMVPD Partnerships As Replacement For TVision
by Liam Gaughan | Apr. 5, 2021
T-Mobile launched a unique strategy to target cord cutters through distinct content offerings when it unveiled its vMVPD service TVision in November. Despite the steady growth of the online pay-TV market, TVision courted controversy early on when content providers filed complaints over T-Mobile's separation of channels between its VIBE and LIVE plans. Providers including ViacomCBS, NBCU, and Discovery stated that TVision's inclusion of their channels on the skinnier VIBE ($10/month) plan, but not the LIVE ($40+) plan was contrary to content agreements.
T-Mobile attempted to appease providers by expanding the LIVE channel offerings, but the company faced further financial constrain when its video software partner MobiTV announced bankruptcy and required $15.5 billion in bailout. T-Mobile opted to shut down in April and pursue its goal of bolstering its 5G internet service through partnerships with former rival vMVPDs. Current TVision subscribers are offered $10 a month off of a subscription to Philo or YouTube TV as long as they remain with T-Mobile. and T-Mobile customers will receive the discounts for one year starting on April 6.
The industry will see similar partnerships develop as cord cutters seek the most advantageous offering among multiple vMVPD services. Wireless companies that develop brand-name video services to showcase their network capabilities require significant resources. Bundling with third-party vMVPDs offers a more valuable long term prospect that avoids potential churn triggers within the fiercely competitive vMVPD market.
Data from Parks Associates indicates that churn is higher among vMVPDs than other OTT services. 49% of subscribers that cancelled their service within the last 12 months cancelled a vMVPD subscription.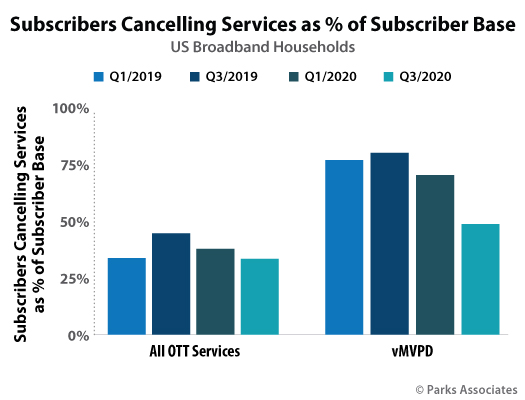 With vMVPD subscription prices hiking due to expensive carriage fees and similar content offerings between services, loyalty is not high. vMVPDs seek incentives in order to retain users that wireless internet providers can deliver by appealing directly to their base. While the migration of TVision subscribers won't significantly affect YouTube TV or Philo, they stand to benefit from the bundle's expansion to all T-Mobile customers.
YouTube TV and Philo have both seen a rise in adoption rates over the past year and their programming targeting different markets won't put them in direct competition for subscribers. Philo offers a skinnier package of strictly entertainment platforms, where YouTube TV includes sports and news at a higher price point. The discounted rates will be a major draw for T-Mobile customers that seek a cost efficient vMVPD subscription that compliments their internet service.
The market impact will be significant if T-Mobile customers gravitate towards YouTube TV and Philo as a direct result of the promotion. vMVPD services and wireless providers are well-suited for partnerships, and it will be interesting to see if similar bundles by other leading vMVPDs launch in wake of the announcement.
For a deeper look at the OTT video space, please check out the Parks Associates' OTT Video Market Tracker.
For more information about Parks Associates research, visit http://www.parksassociates.com or call 972-490-1113.
Next: Symphony MediaAI Sponsors Future of Video Executive Conference
Previous: Beyond the Theater: New Windowing Strategies

Comments
Be the first to leave a comment.
Post a Comment