Symphony MediaAI Sponsors Future of Video Executive Conference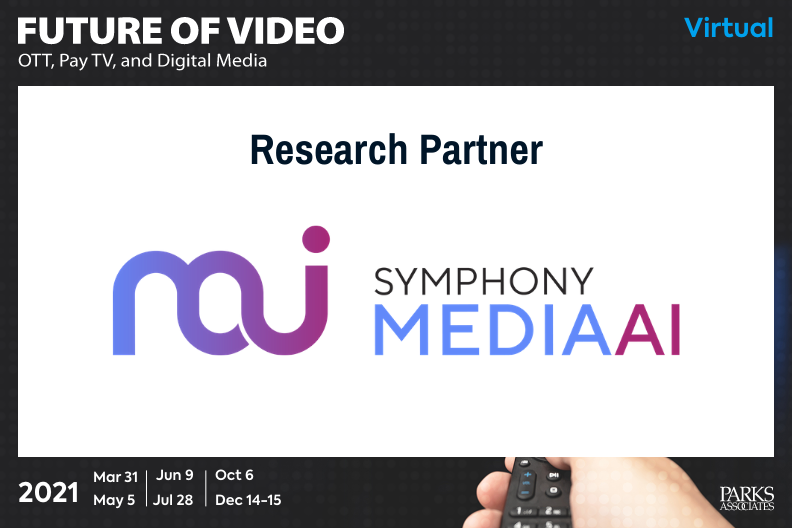 Parks Associates' 4th annual Future of Video: OTT, Pay TV, and Digital Media series is proud to announce Symphony MediaAI as their research sponsor.
Symphony MediaAI is the leading provider of financial management services and is rapidly emerging as a leading provider of AI-powered technology solutions that help accelerate revenue growth for the global media industry. Symphony MediaAI experts develop proven software solutions for revenue integrity and strategic revenue management across all distribution channels and deliver financial and audit insights to more than 90% of the U.S. media industry.
Don't miss the upcoming Executive Spotlight Fireside Chat on June 9th from 11:00 AM to 1:15 PM CT, featuring Matt Smith, VP, Business Development, Symphony MediaAI. This session addresses customer churn, evaluation and uptake of services, and strategies for maintaining and retaining OTT subscribers.
Throughout 2021, the executive conference will continue providing in-depth consumer and industry research on video services; the value of digital content in driving and retaining subscribers; technology innovations that market, measure, and track video viewing; and best strategies for building successful video services.
For more information on this event or sponsorship opportunities, please visit www.FOV2021.comor contact sales@parksassociates.com
Next: Peacock Finally Lands on Amazon Ahead of Olympics
Previous: T-Mobile Launches vMVPD Partnerships As Replacement For TVision

Comments
Be the first to leave a comment.
Post a Comment