Surviving OTT competition: July webinar on the OTT Playbook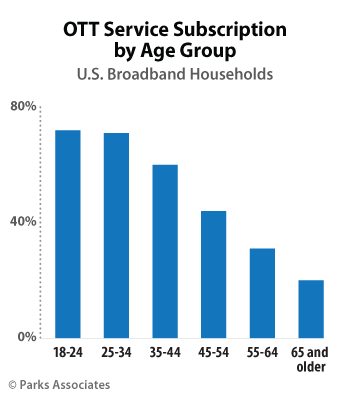 Join Parks Associates, Ooyala, and Vindicia on July 28 for a complimentary industry webinar examining the current and future growth of the OTT market. Research director Brett Sappington will lead the discussion, presenting key findings from our OTT whitepaper series, The OTT Playbook.
Parks Associates research shows 55% of U.S. broadband households subscribe to a subscription OTT video service. Netflix and other successful OTT services are growing to rival many of the more traditional players in the TV market. In response, pay-TV providers are quickly addressing the OTT space.
The net result is a great deal of uncertainty and experimentation as companies seek the right mix to create a successful OTT video service.
Attend this webinar on July 28 to learn:
Actionable OTT trends, insights, and market statistics
Success strategies, including standing out from the crowd, accurate targeting, and service discovery and availability.
Monetization strategies to achieve profitability.
To register for the webinar, click here. We also encourage you to download the OTT Playbooks: Part One: Success Factors for Video Services, and Part Two: Keys to Building Momentum.
Further Reading:
Next: Verizon & HBO Now Streaming Media Deal: Analyst Insights
Previous: Lifetime Joins OTT Market, Launching Streaming-Only Movie Service

Comments
Be the first to leave a comment.
Post a Comment