Support: Onboarding and Ongoing Services
The smart home industry is keen on driving market growth. Positive onboarding experiences are critical to that goal while poor experiences drive product returns, negative social network commentary, and an unwillingness to purchase other devices of the same brand. The increasing technical complexity in the home demands new support strategies and tools that can efficiently, and often remotely, identify the root causes of technical issues and address them efficiently.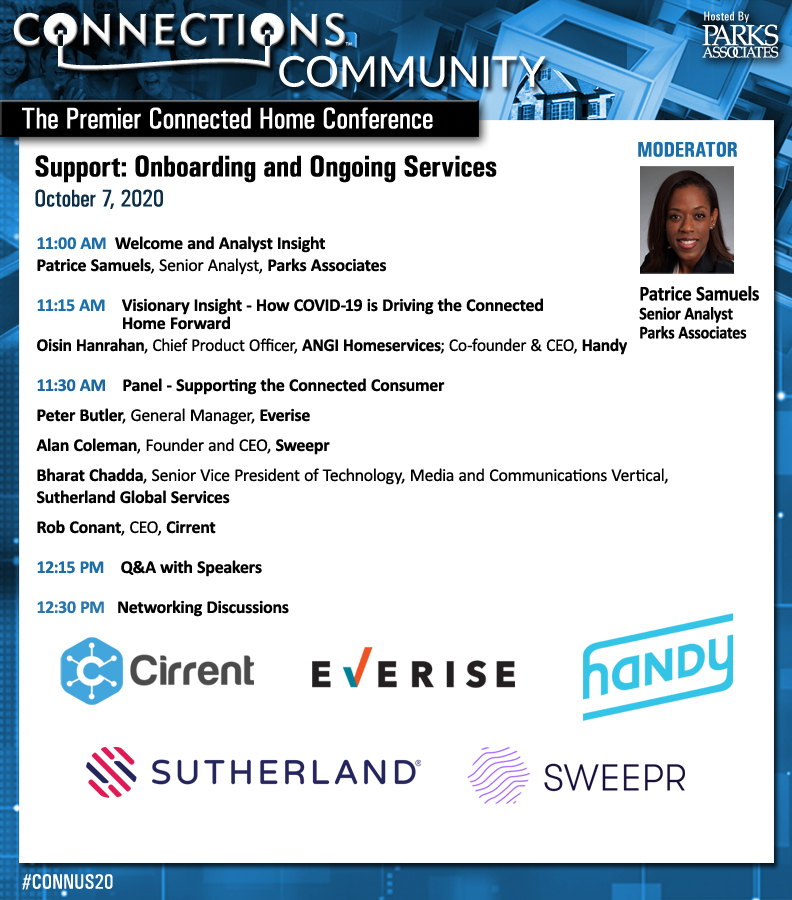 Register now to explore new levels of consumer engagement enabled by connected devices and how to create and extend value to consumers in order to generate new revenue streams.
This session also addresses how connected devices enable new ways to deliver support services.
Additional Parks Data:
35% of smart home device owners who setup their devices themselves report that the process was difficult.
46% of consumers who reported problems with smart home devices in the past 12 months, reported experiencing a loss of wireless connectivity.

Thank you to our Sponsors: Sutherland, Alarm.com, Bitdefender, Nice, Cox, Intellithings, Cirrent, Everise, MMB Networks, ServiceLive, Zen Ecosystems, Firedome, Inspire, Mercku, Ossicao, Zigbee Alliance, Z-Wave, Aprilaire, Gadgeon, Asurion, and Wi-Charge.
Next: Video Doorbell Evolution – A Smart Home Staple
Previous: Global Pandemic Pressures Smart Device Industry - Everise Insights

Comments
Be the first to leave a comment.
Post a Comment