Streaming Wars Expected To Minimally Impact Netflix Q4 Earnings
by Brandon Riney | Jan. 20, 2020
Contributing Author: Steve Nason
The big question ahead of Netflix's upcoming earnings call on January 21 centers on the impact that Disney+ has had on Netflix's domestic subscriber count and growth in subscriptions. There is significant concern in the industry that Disney's service will prompt some of Netflix's subscribers to drop the service. There are likely a small number of Netflix subscribers who subscribed solely for the Disney content and will now cancel in favor of Disney+, but in general Disney+ cannot be equally compared as a replacement to Netflix. Given that Disney+ offers a suite of family-friendly content at a relatively low price-point, the service better stands to supplement Netflix's general entertainment content library rather than replace it.
Parks Associates research shows that roughly two-thirds of US OTT subscription households subscribe to multiple OTT video services. Netflix is by far the most widely adopted service, as 72% of all OTT households use Netflix alone or with some other combination of services, typically Amazon or Hulu.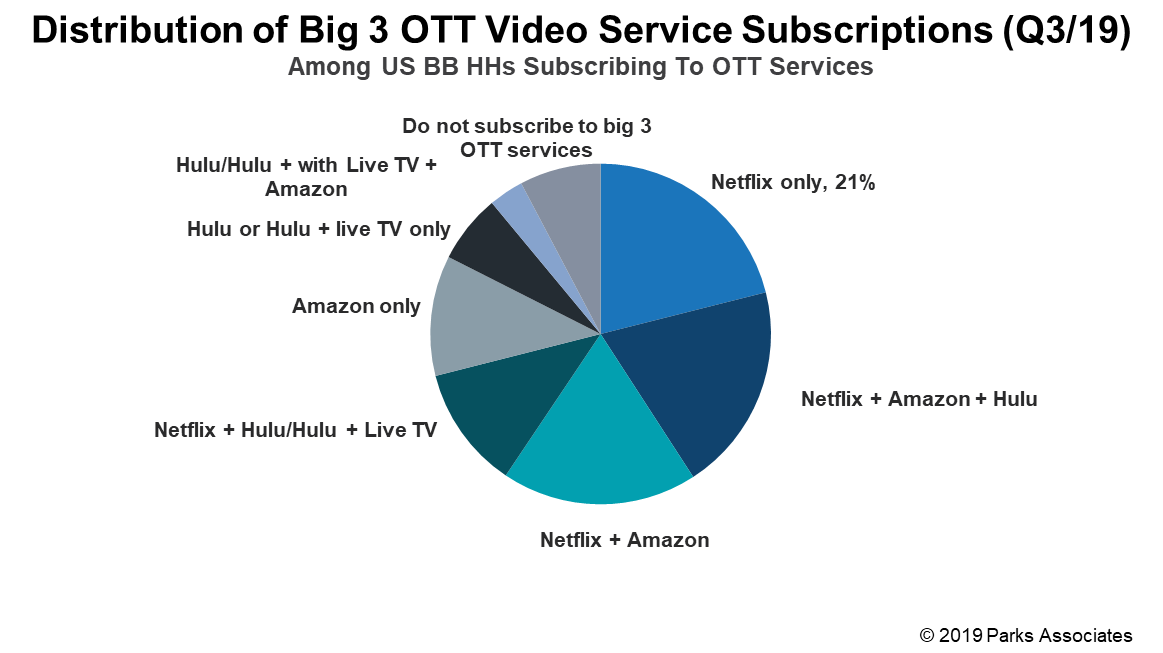 Netflix accomplished its strong market position with aggressive investments in its own content, which it shows no signs of slowing. Netflix recently added two big movies to its service, The Irishman and Marriage Story, both Golden Globe-nominated films that have generated buzz among critics and consumers, as well as its TV series The Witcher, which quickly became one of its most watched shows and ranked as Netflix's highest rated original series on IMDb only weeks after its release. These accomplishments, coupled with the numerous other Golden Globe and Oscar nominations Netflix has accrued in recent years, reflect the popularity and quality of the service's content.
The service did experience its first domestic subscriber loss in Q2 2019, leading some observers to speculate on more losses to come, but Netflix quickly recouped its losses in Q3. Also, generally speaking, Q4 is a time when consumer demand for movies and TV shows is at its peak, due to seasonal factors, free time over the holidays, and the influx of new streaming devices—consumers want to put that brand-new TV they got on Black Friday to good use. Due to these factors, Parks Associates anticipates that Netflix will sustain its growth and have a positive earnings call.
For a more in-depth perspective on OTT and digital service uptake, check out Parks Associates' upcoming 360 Deep Dive, Adoption and Business Models: Video, Music, and News Services.
Further Reading:
Next: The Impact of vMVPD Services in the Pay-TV Industry
Previous: OTT Video Services Expand to Smart Displays

Comments
Be the first to leave a comment.
Post a Comment