Streaming Services Take the Lead at Sundance Film Festival
by Tam Williams | Feb. 10, 2021
Last week, Sundance Film Festival concluded its seven-day run, premiering new movies and other Festival experiences digitally and on satellite theater screens across the US, due to the continuing presence of COVID-19. In terms of major buyers at film festivals, streaming services like Hulu and Apple+ are still the new kids on the block. However, they are arriving with the most purchasing dollars, leading to record-breaking sales and proving the growing importance of OTT services in the film distribution ecosystem.
Research from Parks Associates finds 61% of US broadband households subscribe to two or more OTT services as of late 2020, up from 48% in 2019. Forty-five percent subscribe to three or more, up from 27%, and 31% subscribe to four or more, up from 14%.
Early last year, Hulu and Neon made headline news with their Sundance purchase of Palm Springs for $17.5 million. Netflix, Amazon, and Apple also made deals averaging between $8 and $12 million. Additionally, Netflix spent over $70 million at the equally popular Toronto Film Festival last fall. In a saturated online video market, a unique content library is imperative for any streaming service's success. As COVID-19 continues to delay original content production, streaming services are on the hunt for premium content that will attract new subscribers and contribute to lower churn rates.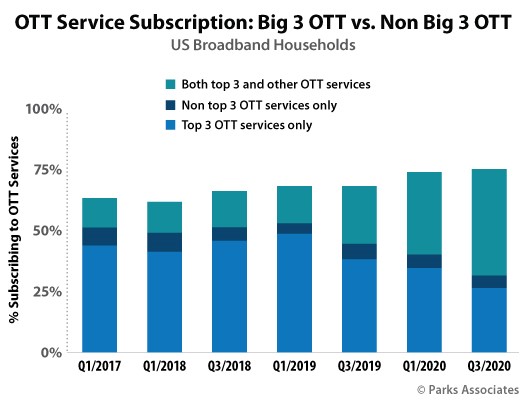 This month, Apple has lingered in headlines, with its record-breaking $25 million for CODA. CODA itself made Sundance history, with sweeping awards category wins. Disney's Searchlight and Hulu bought top-prize winning documentary, Summer of Soul, for an undisclosed amount. However, it is reported as the biggest documentary biggest sale in Sundance history. Netflix spent nearly $16 million on the highly acclaimed film Passing.
Parks Associates research finds 25% of US broadband households now prefer an OTT subscription service to watch new movies, while 24% still prefer movie theaters to experience first-run movie titles and another third who don't have a preference. The purchasing presence of these top streaming services continues to gain momentum during the pandemic crisis, as theaters have not returned to full capacity. Studios and distributors are finding that survival includes expanding their distribution strategies to include an online presence.
Warner Bros. made waves late last year, announcing a dual release of new titles in theaters and on HBO Max. Warner Bros.' Oscar-buzzed Judas and the Black Messiah debuted at Sundance and will premiere in theaters and on HBO Max this Friday.
Parks Associates research also finds many consumers intend to add newer services such as Disney+, Apple TV+, HBO Max, and Peacock permanently to their OTT service portfolio, beyond the traditional Big 3: Netflix, Amazon Prime Video, and Hulu.
With no end yet in sight for COVID-19, moviegoers will continue to look to the leading streaming services for exclusive content previously accessible only in theaters. Partnership with streaming services is a smart strategy and perhaps the strongest lifeline for players in the film distribution space during these unprecedented times.

Further Reading:
COVID-19: Impact on Communications and Entertainment
The Next 'Big 3' in OTT

Next: ADT, DISH, and OnTech Announce Partnership
Previous: Industry Leaders Discuss Traditional and New Home Service Bundles at CONNECTIONS Summit 2021

Comments
Be the first to leave a comment.
Post a Comment