Spending Patterns Reveal that the Movie Theater is Heading for Hospice
by David Mitchel | Apr. 25, 2018
Movie theaters have lived a long life, having bolstered the financial health of the film industry for years and entertained millions of viewers. Theaters provide a unique blend of public and private entertainment, allowing us to experience the spectacle of film in our own seat but in a community of viewers. However, despite its position as a venue for the art of film, this unique channel for content distribution is struggling as it seeks a resurgence rather than a slow death.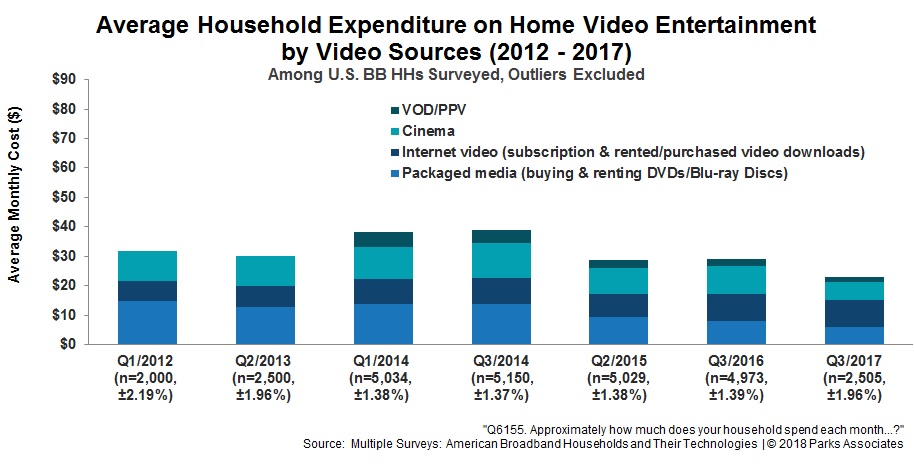 The accompanying chart from Parks Associates' consumer survey study, 360 View: Digital Media & Connected Consumers, reveals the challenge faced. By the end of 2017, cinema ticket spending fell to just over one-quarter of monthly consumer spending on video other than pay TV. Internet video now holds almost a 40% share of monthly spending. By comparison, cinema tickets represented approximately one-third of monthly spending in 2013, and Internet video just over 20%.
So, two questions arise from this data:
1. Fundamentally, why is the movie theater model slowly dying?
2. How will the content distribution ecosystem change going forward?
Many have speculated about the reasons contributing to the struggles in theater attendance, with suspicions (and hints of blame) falling upon theater goers and industry executives alike. Ultimately, this really boils down to one simple principle. The movie theater price-value proposition isn't resonating with consumers. Why spend $10-$15 (or more) per person for 1.5 to 2 hours of video content when $10-$15 will get you an entire month of all the video content you want from a subscription site like Netflix, Amazon Prime, or Hulu? For younger consumers that are open to watching full movies on their smartphones, the theater experience can be less compelling – why be around people in the theater that you don't know when you can watch in the privacy of your own home with people you like? For many, the online option seems to be a way better deal.
There's also not much of a technology advantage with the big screen, as thin panel TV set technology (4K/UHD, Internet-connectivity, smart functionality, etc.) has improved so much over the past decade, and prices of TV sets are quite reasonable relative to the consumption benefits that they offer.
Unfortunately, there are no easy answers to overcome this shift in perceived value. The primary advantages to which theater owners cling is in the power of being the first window for film content – the first opportunity to watch a film-quality production. The key for theaters will be to adapt their business models and experiences to address a new generation of viewers.
What partners will serve as the best path to reaching the new generation? At present, theaters are resisting partnerships with OTT video services, a path originally followed by the pay-TV industry, much to their detriment. Netflix had even been rumored to be interested in purchasing theaters, primarily to work around theater chain resistance to carrying Netflix productions. So, an industry seeking to be relevant to a new generation is pushing away a brand that is being embraced by the users that theaters most want to attract.
For Hollywood studios, the decline in movie theater attendance will hurt, but not spell doom. Rather, Hollywood studios and film monetization will also need to evolve with consumer preferences. Partnerships with pay-TV could be an option. Pay-TV providers are now seeking opportunities for differentiation and ways to fight the tide of cord cutting and cord nevering, with the largest players acquiring major content producers. Studios will also likely partner with deep-pocketed OTT video service players that want cinematic production quality, even for the small screen.
Importantly, the era of the theater is not over. Theater chains are experimenting in many ways to change the perceived value proposition, ranging from loyalty programs to premium theater experiences. The industry must move from reactive to proactive if it is to avoid the final curtain.
Further Reading:
Next: Amazon Quietly Enters the Home Security Space
Previous: Comcast Dipped its Toe into the Wireless Business

Comments
Be the first to leave a comment.
Post a Comment