Sony Aims To Dominate 4K With New Streamer
by Liam Gaughan | Jan. 14, 2021
As COVID-19 continues to impact the shuttering of movie theaters and the changes within content windowing, device manufacturers have raced to deliver premium home entertainment experiences as a supplement to audiences that regularly attend theaters. An announcement at CES indicates that Sony is leveraging its smart TV technology to generate interest in legacy and recent theatrical titles and its new line of Bravia XR TVs.
At CES 2021, Sony unveiled Bravia Core, a preloaded credit-based streaming service available exclusively on Sony's new line of 2021 BRAVIA XR TVs. The video quality is purported to rival Blu-Ray discs and runs three-to-four times faster than other OTT services. Connectivity issues and poor picture quality are among the most frequent complaints that users have when dealing with streaming services, and Sony aims to resolve these issues through a service that resembles the cinema more than traditional home viewing. The quality described as "near lossless" puts the BRAVIA line in an ideal position to distribute theatrically released films within the streaming marketplace.
Bravia Core utilizes a credit-based structure that allows users to trade one credit for access to one film, as well as deleted scenes, interviews, and behind-the-scenes content for an undisclosed period of time. Sony has yet to reveal the full content library available on the service, but it promises over 300 Sony titles both classic and recent, including films in the popular Spider-Man, Jumanji, Bad Boys, Resident Evil, Hotel Transylvania, and Ghostbusters franchises. As BRAVIAs are rolled out, Sony will need to communicate to users how further credits can be attained, and design an easily understandable transactional interface that makes clear the frequency in which new titles are added.
Data from Parks Associates indicates that the availability of 4K Ultra HD picture quality is one of the primary features that consumers consider when purchasing a new smart TV.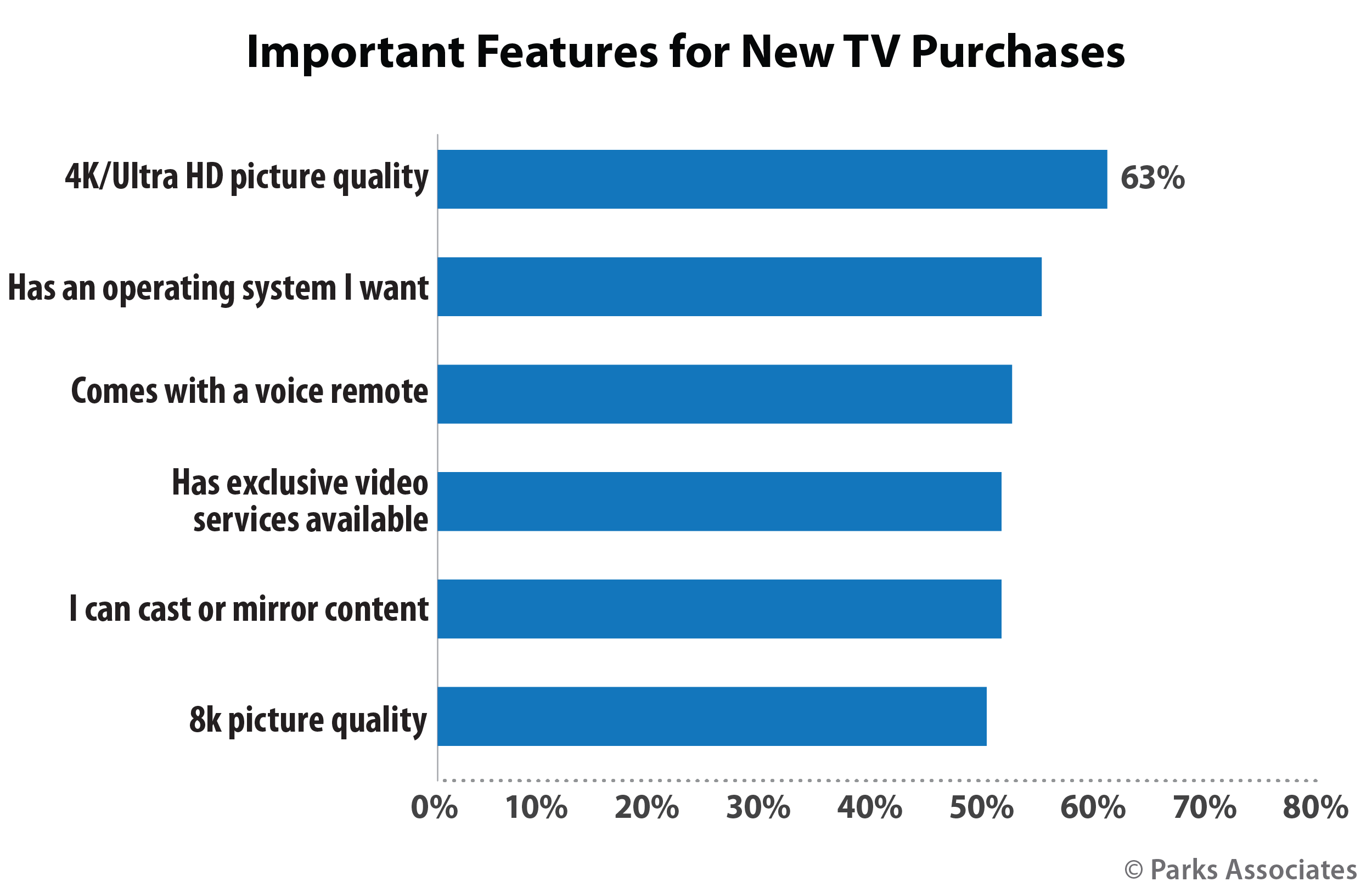 The introduction of a unique streaming service dedicated to a high definition quality is a strong move on Sony's part to demonstrate their 4K Ultra HD capabilities. As 8K becomes a more important factor in consumer choice, Sony will want to highlight the ability of its flagship 8K Bravia TVs to upgrade sub-8K content, and make sure that technology is seamlessly integrated within Bravia Core.
Replicating the image quality of the theatrical experience will be important as studios continue to send titles to streaming services and many theaters remain closed. The incentive of free movie credits should help the 2021 rollout, particularly given the influx of smart TV announcements at CES from competitors like Samsung and Panasonic. Recent box office successes like Venom and Spider-Man: Far From Home serve as good ambassadors for Sony to replicate the immersive experience of movie theaters on its Bravia line.
The announcement is also a creative way for Sony to utilize library titles from Sony Pictures Entertainment, particularly as the studio considers how to proceed with its intended theatrical slate. Just this week, the release of Sony's comic book film Morbius was movedfrom March to October, and similar delays could occur for Sony's 2021 slate of intended blockbusters like Ghostbusters: Afterlife, Venom: Let There Be Carnage, Uncharted, Hotel Transylvania 4, and the latest live-action Spider-Man film. As Sony weighs release strategies for these films, renewed interest in its legacy titles coupled with a spike in smart TV sales may provide the studio with a new distribution platform.
For a deeper look at the OTT video space, please check out the Parks Associates' OTT Video Market Tracker.
For more information about Parks Associates research, visit http://www.parksassociates.com or call 972-490-1113.
Next: Apple TV+ Extends Promotion to Retain Subscribers
Previous: Building the New Home Services Bundle

Comments
Be the first to leave a comment.
Post a Comment