Smart vs. Traditional Watches: Coexistence or Competition?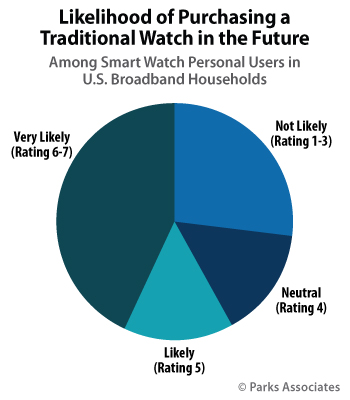 The traditional watch market faces two forms of competition from the CE space. First, the ubiquity of smartphones decreases the need for a separate timepiece. Second, the smart watch category challenges the traditional watch segment directly. Shipments of Swiss-made watches fell by over 14% from July 2015 to July 2016, and traditional watch sales declined across all price categories.
Recent Parks Associates research assessed the impact of smart watches on the traditional watch category, and found that smart watches have reduced—not replaced—traditional watch use. While smart watch users are, in fact, less likely than non-smart watch users to wear a traditional watch daily, they are more likely to own a traditional watch at all. 82% of smart watch users in U.S. broadband households own a traditional watch, compared with 73% of consumers who do not personally use a smart watch.
Our findings suggest that smart watch users tend to be watch enthusiasts generally, and many still have plans to wear and purchase traditional watches in the future. Consider the following:
47% of consumers in U.S. broadband households who own both a smart watch and a regular watch report they are "very likely" (rating of 6/7 on a 7-point scale) to purchase a traditional watch again in the future.
29% of consumers who own only a smart watch and do not currently own a regular watch report being highly likely to buy a traditional watch in the future.
Smart watch users who intend to purchase a regular watch in the future are much more satisfied with their smart watch (as indicated by NPS score) than those who do not intend to purchase a regular watch in the future.

There is no doubt that smart watches have impacted the traditional watch market and that newcomers to the watch market from the CE space have taken market share from traditional watch manufacturers. However, findings suggest that smart watch users are watch enthusiasts generally who remain open to wearing traditional watches.
Parks Associates' consumer analytics research, Smart Watch: Purchase Drivers, assesses smartwatch purchase drivers by analyzing smartwatch ownership trends and top purchase considerations, features, and use cases. It examines consumer attitudes toward smartwatches and quantifies watch-wearing behavior changes to assess the smart watch's impact on the traditional watch category.
Parks Associates' industry report, Leading Smart Watch Apps: Insights into Wearable Use Cases, analyzes trends in the development of tethered and native apps for smart watches. It highlights perspectives from watch brands, app developers, and consumers about the most significant smart watch use cases and business strategies to increase usage and boost brand loyalty. The report also updates Parks Associates' five-year global smart watch sales forecasts.
Further Reading:
Next: Top 7 Takeaways from Samsung's Galaxy S8 Event
Previous: What Sensors Do Autonomous Cars Need?

Comments
Be the first to leave a comment.
Post a Comment