Smart Speakers – Gateway to Smart Home Adoption
Smart speakers can present strong use cases for smart home devices to the consumer. By bundling smart speakers with smart plugs, smart light bulbs, or smart thermostats, companies can deliver a guided introduction to the smart home experience.
We just released new research from Smart Home Buyer Journey and User Experience showing that smart speakers are serving as a gateway to smart home adoption, as 16% of broadband households purchased a smart speaker prior to purchasing a smart home device. Of the 29% of US broadband households that own both a speaker and a smart home device, nearly three-fourths said ownership of the speaker motivated them to purchase a smart home device.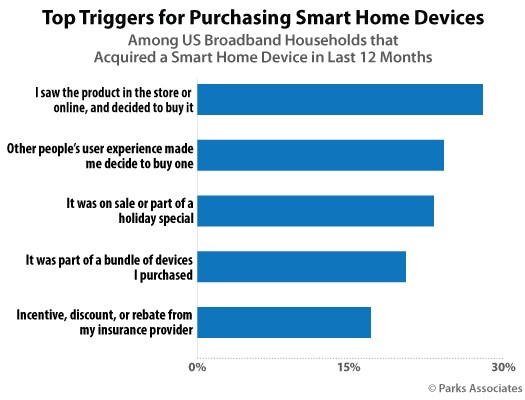 This combo also helps facilitate support for self-installation, which is becoming significantly more important following the COVID-19 outbreak.Our consumer research finds that that between 69% and 78% of all smart security and safety devices bought in 2019 were self-installed, representing a significant increase from 2018. For example, 77% of networked camera owners self-installed this product in 2019, compared to 68% in 2018.
The self-installation trend enables direct-to-consumer online sales for retailers and service providers without the cost or challenges of a COVID-19 service call. Prior to the outbreak, the main trigger for a smart home purchase was the consumer experience of seeing the product in a store or online. With so much shopping now shifting online, having these self-install options is even more important to trigger sales, and with a smart speaker, companies can deliver support through do-it-with-me or do-it-together services that utilize real-time chat.
Join the CONNECTIONS Community where you can network with key industry leaders in the connected home and IoT industries. The virtual conference sessions focus on technology innovations, consumer research on adoption and trends, product and service forecasts, and evaluation of new business strategies, partnerships, monetization opportunities, and value-added service design.
Next: Connected Devices Provide New Opportunities to Extend Monitoring Services
Previous: Moving Beyond Traditional Consumer Electronics: Connected Devices Everywhere

Comments
Be the first to leave a comment.
Post a Comment