Smart Product Strategies in Europe: Choosing Communication Protocols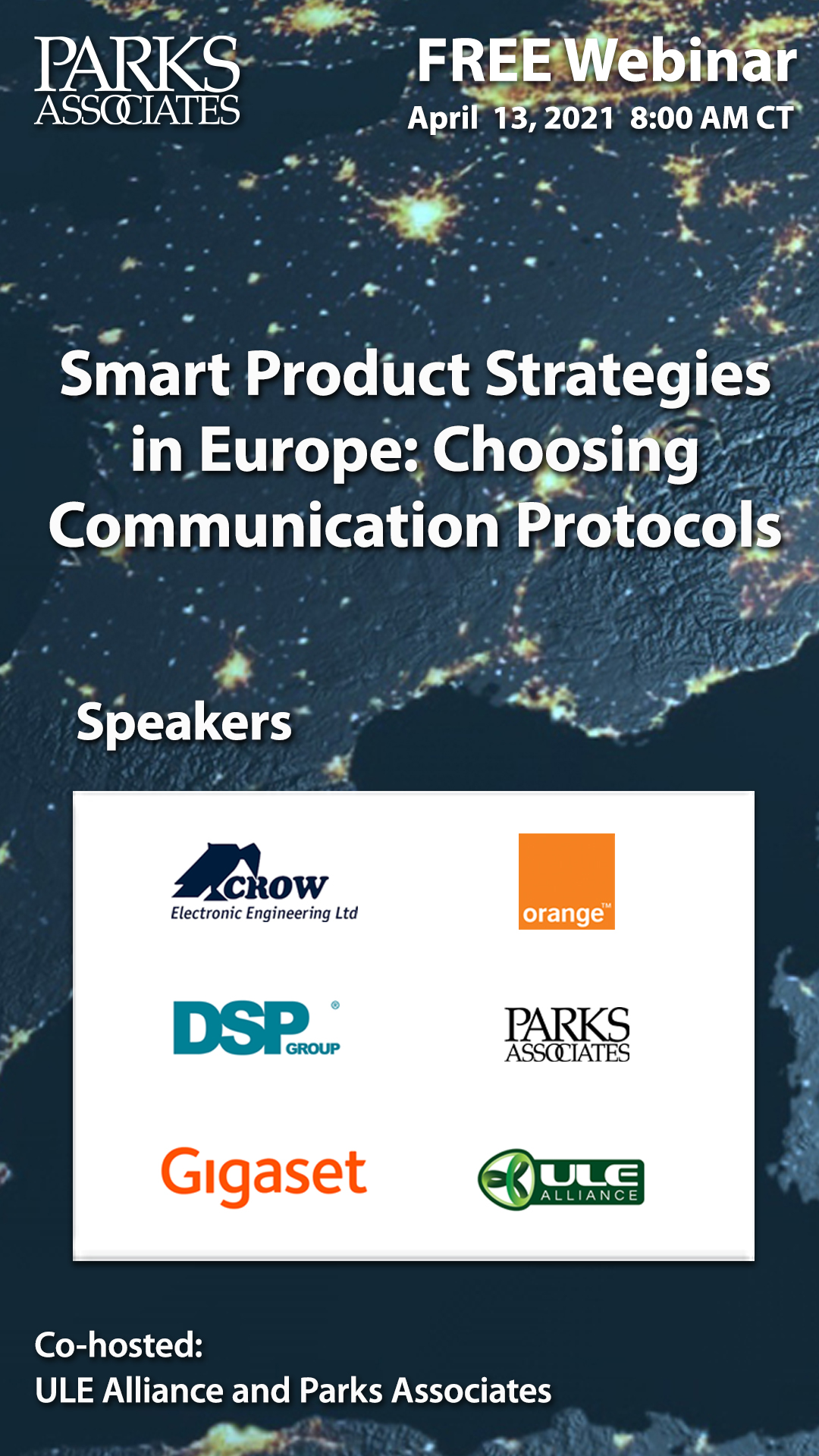 Consumers want smart home products that are easy to set up, communicate reliably, and are secure. Now, product manufacturers and service providers are facing a variety of design and strategy decisions to achieve superior user experience.
Selecting the best communication protocols for the job is one of the most impactful decisions solution providers make, as they evaluate the tradeoffs in cost, range, battery life, ecosystem maturity, and data security offered by competing protocols. Each of these factors influences adoption and usage by consumers and can convert those reluctant to adopt. Parks Associates research found that 55% of UK broadband households do not own and do not plan to purchase smart home products because they do not see any personal benefit to ownership. Additionally, 22% have data privacy and security concerns and 17% fear smart home devices would make their lives more complicated.
Parks Associates and leading solution providers from across Europe will share their decision making priorities when designing smart home products and services at the upcoming webinar Smart Product Strategies in Europe: Choosing Communication Protocolson Wednesday, April 13 at 8AM CT.
Register now to explore how communication protocols impact the user experience and how these benefits can expand adoption, overcome barriers, and add to a provider's service catalog.
Discussion Topics Include:
User experiences related to product range, battery life, energy consumption, reliability, and data security.
Problems in setup and installation and solutions that will reduce support calls.
Impact of protocols on solution design, power consumption, reliability, and potential for new use cases.
Process for selecting protocols as a business decision and the short- and long-term impacts on consumer adoption, usage, and loyalty.

For more information on this webinar, please click here.
Next: NVIDIA GTC 2021 implications on Smart Home Products
Previous: 12M US households have cut the cord and 15M have mobile broadband only

Comments
Be the first to leave a comment.
Post a Comment