Smart Home Services Must be Built on a Strong Foundation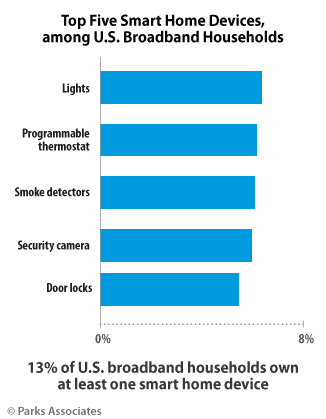 According to Parks Associates research, 50% of U.S broadband households will own at least one smart home device by 2020. Already, 13% of U.S. broadband homes own some type of smart home device. Smart home solutions continue to grow at a rapid pace, and industry leaders within the smart home market are reporting year-over-year growth at over 100%.
Parks Associates and Greenwave Systems recently presented new smart home industry data during a complimentary webcast, "Key Competitive Elements for Smart Home Service Providers." Parks Associates director of research Tom Kerber, alongside Nate Williams and Jim Hunter from Greenwave, outlined strategies for long-term IoT success by achieving rapid innovation at scale.
Research highlights from the webcast included:
Frequency and type of problems consumers experience when setting up new smart home devices
Average number of connected devices owned per U.S. broadband household
Average video consumption per week on multiscreen platforms

Download the webcast recording and slide deck by clicking here.
Further Reading:
Next: Top 5 Takeaways from CONNECTIONS Europe Conference
Previous: 6% of U.S. households will have a smart home controller by 2015

Comments
Be the first to leave a comment.
Post a Comment