Smart Home Opportunities for Home Builders
by Chris O'Dell | Oct. 28, 2019
Home builders are traditionally risk averse when it comes to adding new technologies in their homes. However, home builders can be an effective channel to introduce smart home products and services to a broad range of customers, including those that are not traditionally tech enthusiasts. Builders across the country convened in Irving last week for Builder Connections, hosted by Hanley Wood, to hear insights on consumer demand for smart home products and services and trends impacting future home builds.
Parks Associates research shows that nearly half of consumers prefer a home with smart home technology. Among likely movers, almost 30% want smart home devices and services pre-installed with costs rolled into a home mortgage.
With leading production builders like Lennar Corporation, KB Homes, Meritage Homes, and Brookfield Residential launching initiatives to incorporate smart home products into their dwellings, the builder channel is increasingly significant in the smart home space. These companies are offering built-in smart home solutions, typically starting with wireless home networking and then expanding their portfolios to the consumer to include popular smart home devices such as smart thermostats, smart garage door openers, smart lighting, smart door locks, and video doorbells.
Companies such as Amazon, Cox, and Comcast are also pursuing this channel, giving property developers a solution that provides advanced networking technologies that are essential for the smart home. Consumer interest in smart home products and services has so far been the leading driver for innovation among leading home builders. These companies can leverage that consumer demand to enhance their brand and differentiate their products while better serving specific lifestyle segments and driving additional revenue.
What devices to include in a smart home package has still been a big question mark for builders due to the rate of new technology development and consumers' unwillingness to pay for certain smart upgrades. We surveyed consumers and asked about the importance of their next property having certain home improvement upgrades. More than two-thirds of respondents found it "important" for their next home to have smart smoke/CO detectors installed, with more than half finding it "very important."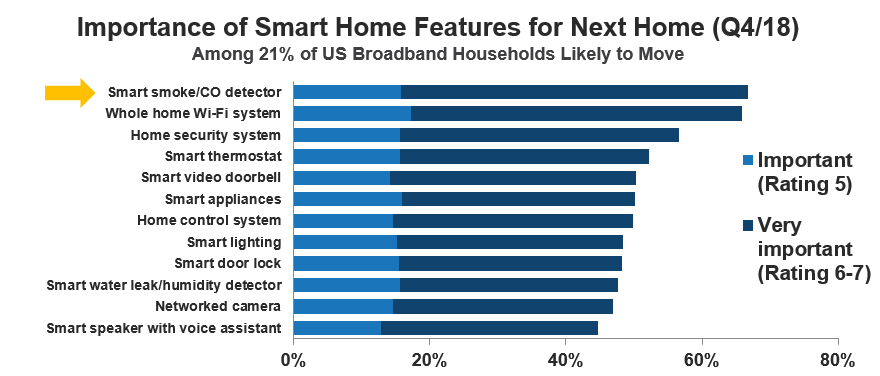 Interestingly, smart smoke/CO detectors ranked at the top of all listed smart home features for likely movers despite only 7% of US broadband households currently reporting ownership of at least one of these devices. More importantly though, consumers also show high willingness to pay for these devices in their next home. Nearly half (49%) of likely movers report a willingness to pay for smart smoke/CO detectors to be included in their next home – a higher percentage than any other smart home device.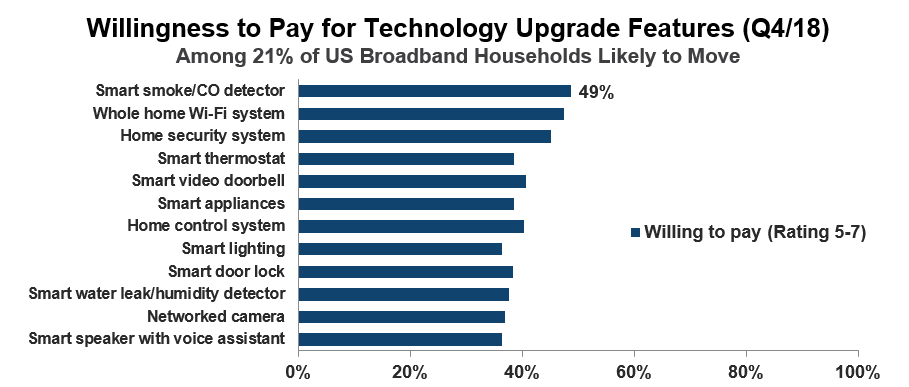 This presents a clear opportunity for home builders to incorporate smart smoke/CO detectors in any future builds. It also illustrates massive potential for these devices to move beyond early adopters and tech enthusiasts and into mass-market adoption.
As consumers become more familiar and comfortable with smart home technology, it will also be critical for home builders to appease the growing demand for these devices and services in their dwellings. More than half of consumers already believe a "move-in ready" home is one with the ability to have smart home technology. Further, 40% believe a move-in ready house already has smart home technology installed.
Parks Associates recently announced a new study surveying builders and MDU respondents to gain insights into new opportunities for smart home technology in new construction. MDUs, Home Builders, and Smart Home Technology, in cooperation with Hanley Wood and BUILDER Magazine, will provide an assessment of the current state of smart home implementation among US builders of single-family and multifamily housing. The research has a specific focus on value propositions for builders and buyers, drivers and barriers, business models, technology strategies, the procurement and production process, sales and marketing, and value chain partnerships. For more information on the study or additional Parks Associates research, contact sales@parksassociates.com.
Further Reading:
Next: Smart Home Use Cases: Improving Indoor Air Quality
Previous: Amazon Discontinues the Dash Button

Comments
Be the first to leave a comment.
Post a Comment