Smart door lock offerings aplenty at CES 2019
by Chris O'Dell | Jan. 15, 2019
The flood of IoT products and services at CES crossed all categories of the smart home space. However, the lineup of smart door lock offerings generated plenty of buzz on its own. According to Parks Associates research, 7% of U.S. broadband households own at least one smart door lock and purchase intentions for these devices hit 21% in Q4 2018. Further, 13% of broadband households in the U.S. are "very likely" (rating of 6-7 on a 7-point scale) to purchase one of these devices over the next 12 months. This partly explains the abundance of smart lock offerings featured last week at the Consumer Electronic Show (CES 2019) in Las Vegas.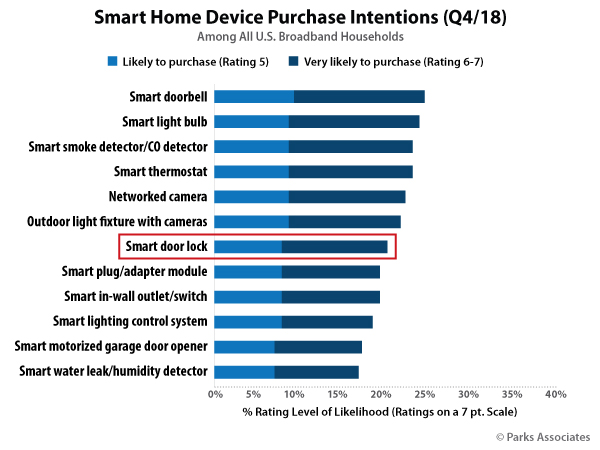 During the event, August Home and Yale (both of which are owned by Sweden's Assa Abloy) announced a pair of new smart locks that offer support for Apple HomeKit. The EMPowered Smart Lock by August is available in three different versions, with either a touchscreen keypad or with a keyed entry-set, and includes all of August's flagship features. Meanwhile, the Yale Assure Lever Lock is available with either a push button keypad or capacitive touchscreen and is designed to work in interior rooms with non-deadbolt entry doors. Both locks by August and Yale will hit the stores in the coming months.
Another company with a large presence in the smart lock space during CES was Hampton Products. Hampton debuted a line of new products at CES, such as the BenjiLock. The original fingerprint padlocks, created by Robbie Cabral and aided by Shark Tank's Kevin O'Leary or Mr. Wonderful, go for $69 while a TSA-compliant luggage BenjiLock is priced at $49. Hampton also has plans to include the BenjiLock technology in a new line of smart door locks as well. Prior to CES, Hampton announced its ARRAY cloud and app enabled smart deadbolt, which works with home Wi-Fi and includes a rechargeable, lithium polymer battery. The ARRAY also includes a built-in solar panel, allowing it to be powered by the sun if the door receives direct sunlight.
In addition to several legacy players announcing new product releases, CES also featured new products with a combination of existing use cases rolled into one device. One example is the Altro Smart Lock, which doubles as a video doorbell. The Altro lock, which retails at $350, has a built-in motion-sensing camera and uses rechargeable batteries. The video recording device also has two-way audio that lets users talk through the lock with whoever is at the door.
As more and more players enter the market, the 7% current adoption rate of smart door locks should significantly increase over the coming years.
Parks Associates examines the smart door lock market in its Smart Product Market Assessments. The smart door lock assessment provides a comprehensive and deep analysis of the market and examines market growth drivers, key barriers, top players, and elements impacting the user experience.
Next: BYOD Becoming a Popular Solution for Utility & Energy Providers
Previous: Discussing Voice Technologies and DIY Security Solutions in the Smart Home with Chamberlain

Comments
Be the first to leave a comment.
Post a Comment