Shifting to the New Normal – Insights from OATS on Connected Health Solutions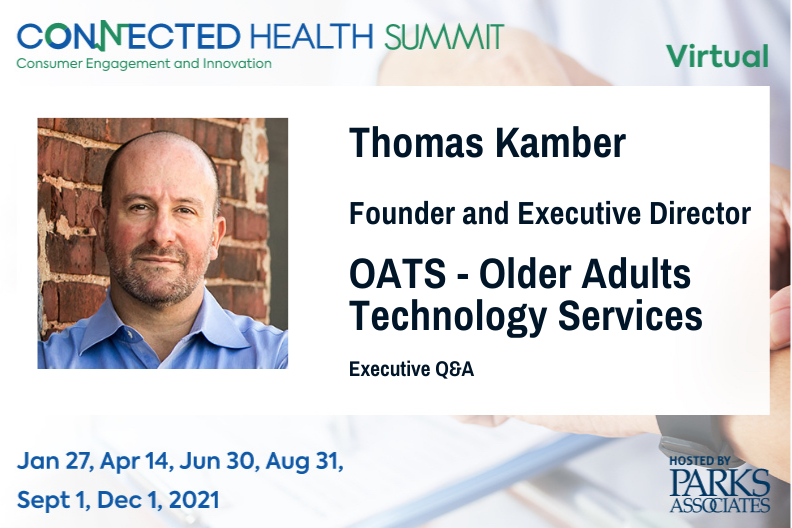 Parks Associates continued its 2021 virtual Connected Health Summit with a session on April 14, Leveraging the Smart Home for a Healthy Home, and Seniors and Caretakers: Serving A Massive Population at Home. Thomas Kamber, Founder and Executive Director, Older Adults Technology Services (OATS), joined Parks Associates President, Elizabeth Parks, during the April 14 session, Seniors and Caretakers: Serving A Massive Population at Home, for an Executive Q&A, where he discussed the challenges involving the senior population adopting technology to obtain health services. Prior to the session, Thomas provided insights on how seniors can remain engaged digitally after being forced into a virtual world due to the COVID-19 crisis:
How have consumer attitudes towards connected health solutions shifted in the last year?
Over the last year, Senior Planet has adapted over 150 lectures, workshops, and multi-week series in English, Spanish, Chinese and Russian for virtual delivery, and we've seen older participants adapt to engage virtually as well. Whether it's learning how to keep in touch with family living in a faraway state, starting a second (or third or fourth) career online, or experimenting with new ways to make their voices heard digitally, older adults are discovering and mastering new technologies daily – including connected health solutions.
One of our most popular classes on SeniorPlanet.org is the morning stretch class, which regularly draws at least 350 participants and sometimes tops 400. Participants in this and our other fitness classes often share how they're integrating connected health solutions into their fitness journeys. One class participant said, "there are a lot of people who are stressed in the world and I'm one of them. I'm very stressed about everything going on in the country, but daily meditation with my meditation app helps me get away from those thoughts and dissipate that stress."Another participant swims every day and uses her smart watch to keep track of her strokes, time and breathing. "I swim almost every single day. It keeps track of my strokes, the time, my breathing," she said.This past year has validated the importance and influence that technology has on our lives, and seniors are increasingly realizing the benefits of being connected.
Will shifts in consumer behaviors related to fitness, wellness, chronic care management, and care for senior populations outlast the COVID-19 crisis? How can solution providers keep consumers engaged over the long-term?
As we start to shift back into the new, "new normal," we do think that seniors will continue to engage digitally on SeniorPlanet.org and in other aspects of their lives. In fact, participants in our virtual fitness classes have expressed how important it is for them to have access to our online programs even after the world reopens. We have had seniors join our online programs from all over the country, in places where there is no physical Senior Planet center, so they are especially concerned about continued access to virtual programs. Beyond the physical benefits of these programs, virtual delivery has expanded the seniors' social network, educational opportunity and sense of belonging – and we don't foresee them or us wanting to quench that growth anytime soon. Over the long-term, our approach will continue to be to facilitate a space where an online community of older adults can learn, share and grow together.
Join us this year for our Connected Health Summit! Register now.

Next: Scaling Music as Medicine - Insights from Musical Health Technologies
Previous: A Wakeup Call for the Connected Health Market - Insights from Electronic Caregiver on Digital Health

Comments
Be the first to leave a comment.
Post a Comment