Security Dealers Increase Remote Support
by Amanda Kung | Nov. 30, 2020
The residential security industry must adapt to challenges brought by COVID-19. The pandemic inhibits in-home installation, places financial pressure on some customers, and requires new precautions and procedures for company employees. COVID-19 has increased online transactions for self-installable systems and devices due to social distancing practices, resulting in heightened demand for remote technical support.
Parks Associates 2020 Security Dealer Survey finds that a majority of security dealers expect that their revenues will be about the same as in 2019 and 32% of dealers expect that 2020 will have higher revenues than 2019, despite hardships resulting from COVID-19. At the same time, more than 50% of dealers expect lower unit sales this year than last year, and dealers report decreases this year across all their business lines, such as service revenues and service calls. The highest revenue risks come from canceled/discontinued monitoring and lower-than-normal service revenues. If these numbers do not improve in Q4 2020, then revenues, on average, may decline more than dealers currently anticipate.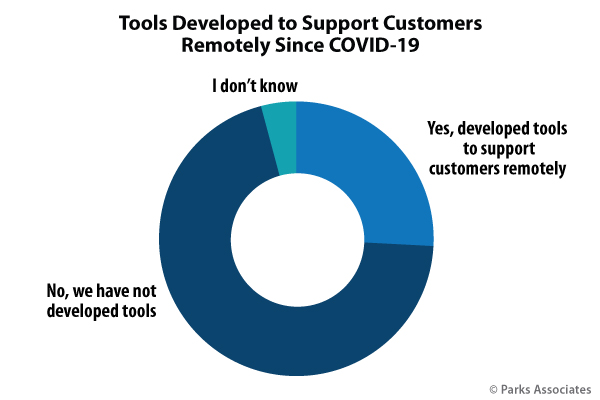 During COVID-19, there has been an emergence of consumers who are concerned about having a stranger in the home. As a result, consumers are reporting higher preferences for remote technical support. A Parks Associates' Q2 2020 consumer survey of 10K households finds that 30% of consumers prefer remote support for maintenance at this time, and nearly 30% are hesitant to have an installer in their home. Unsurprisingly, the Parks Associates survey shows that 30% of dealers report decreased truck rolls of 40% or more. However, only 26% of dealers report having developed tools to help remote support, despite the increased interest from consumers. In order to remain competitive during COVID-19, an increased number of dealers will need to develop tools to help remote technical support.
Some changes to the residential security industry have been accelerated by COVID-19, such as remote technical support, and will likely not recede greatly post-pandemic. Instead, consumer interest in remote technical support likely will continue to grow due to the added convenience. As consumers move towards online/digital services, security dealers must continue to develop more tools to help support customers remotely, such as YouTube video tutorials and do-it-with-me installation help via video, phone, or chat. For a deeper look at the home security dealer industry, please check out Parks Associates' 2020 Security Dealer Survey.
Next: CONNECTIONS™ 2021 Call for Papers is Now Open
Previous: SMBs Increase Spending on Video Conferencing to Adapt and Stay in Business

Comments
Be the first to leave a comment.
Post a Comment