Samsung shows printed-out 19-inch AMOLED TV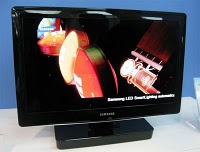 Samsung this week showed off a prototype TV set that uses a printed 19-inch AMOLED panel. The screen's resolution is 960x540, and it has a resolution of 58ppi, while brightness is set at 200cd/m2. Samsung didn't give an estimated production date, saying only that the technology is still being developed.
The TV on display was capable of showing 16.77 million colors with an eight-bit color scale and covered 62 percent of the color gamut. The printed AMOLED technology is making headway, as Seiko showed a 14-inch OLED panel in May of last year using a similar inkjet method with a resolution of 60ppi, a six-bit color scale and a 100cd/m2 luminance.
For the complete article, please click here.
Next: Toshiba's Android tablet sales stop in UK after major flaws
Previous: Monsoon revamps Vulkano media streamer lineup

Comments
Be the first to leave a comment.
Post a Comment