Roku Secures 29% of Streaming Media Market
by Kaitlin Hawkins | Dec. 2, 2014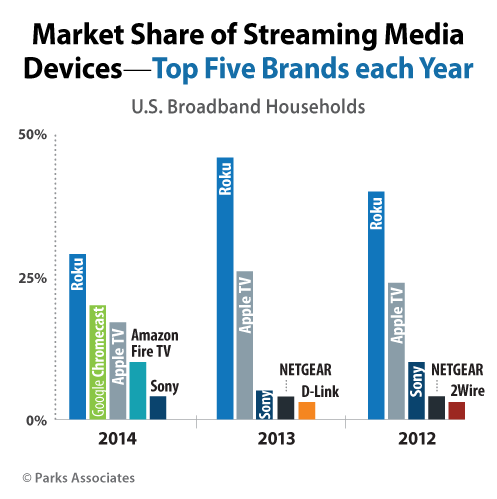 According to new research from Parks Associates released today, 10% of U.S. broadband households have purchased at least one streaming media device this year. Top competitors Roku, Google, and Apple represent the three largest market shareholders, each with less than a third. Though Roku's shares have been slipping thanks to increasing competition and new entrances to the market (Amazon recently announced its own streaming media stick, the Fire TV Stick), the company still remains the top choice among consumers, picking up 29% of sales in the first three quarters of 2014.
In a recent article for CNET, contributor Don Reisinger attributes the popularity of streaming media devices to changing viewer dyanmics. "Over the last few years, consumer viewing preferences have changed as they watch programming when it's not live," he says. Parks Associates Director of Research Barbara Kraus, confirms this: "Nearly 50 percent of video content that U.S. consumers watch on a TV set is non-linear, up from 38 percent in 2010, and it is already the majority for people 18-44."
The growth of streaming media devices globally will only continue as consumers increasingly demand non-linear content. Parks Associates research forecasts that the devices will reach over 50 million units sold globally by 2017.
To read the full CNET article, click here.

Parks Associates analysts will be addressing trends and innovations in connected CE, smart home, and IoT business models during the annual CONNECTIONS Summit, taking place January 6 at CES in Las Vegas. Two sessions in particular will focus on streaming media content and devices:
Streaming Media Devices in the Video Ecosystem, led by research director Barbara Kraus, will feature the following speakers:
Michael Clegg, SVP and GM of Service Provider Business, NETGEAR
Jim Denney, Vice President, General Manager, Product Marketing, TiVo
Jim Funk, SVP Product Management, Roku
Elad Nafshi, VP Video Product Management, Comcast
Michael Paull, VP of Digital Video, Amazon
G W Shaw, Vice President, U-verse and Video Products, AT&T
Consumer Demand for Next-Gen TV Services, led by analyst Glenn Hower, will feature the following speakers:
Rob Aksman, Co-Founder and Chief Experience Officer, BrightLine
Chris Carey, Chief Product Officer, Verizon Digital Media Services
Rich Cusick, General Manager, Video, Gracenote
Eric Grab, Chief Technology Officer, DivX
Christy Martin, Chief Technical Advisor, ThinkAnalytics
JT Taylor, Senior Manager, Cisco
For more information on CONNECTIONS Summit at CES, visit www.connectionsssumit.com.
Further Reading:
Next: Chromecast Eclipses Apple TV for Second-Most Popular Streaming Media Device in 2014
Previous: Holiday shopping insights show women will be driving connected CE purchases this year

Comments
Be the first to leave a comment.
Post a Comment