Roku Owners More Likely to Use OTT Video Services
by Kaitlin Hawkins | Apr. 8, 2014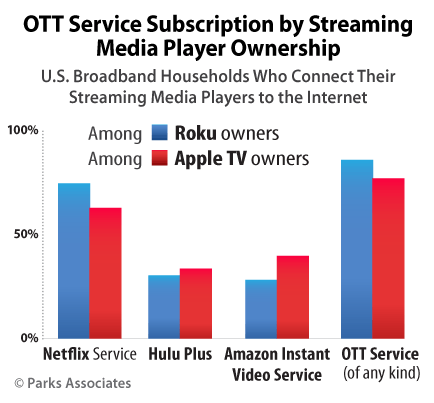 Research released by Parks Associates this week shows that 86% of Roku owners compared to 77% of Apple TV owners use a subscription OTT service of any kind. Additionally, 75% percent of Roku owners use Netflix, while 63% of Apple TV owners use it.
This research will be a key aspect in Parks Associates' participation in the 2014 NAB Show, where the research firm is hosting two Disruptive Media Conference Sessions. Brett Sappington, Director of Research for Parks Associates, will be moderating two panel discussions on April 9: Disruption and Opportunity in the Connected Home, 12:15-1:00 p.m.; and Upended: Disruption and the New Connected Ecosystem, 2:00-2:45 p.m.
For more information on the Disruptive Media Conference, or to make an appointment to meet Brett Sappington at the NAB Show this week, click here.
Next: To Buy or Not to Buy: The Question of 4K
Previous: The Connected Home of the Future is Here: New Research

Comments
Be the first to leave a comment.
Post a Comment