Roku Brings Audio to their Home Entertainment Network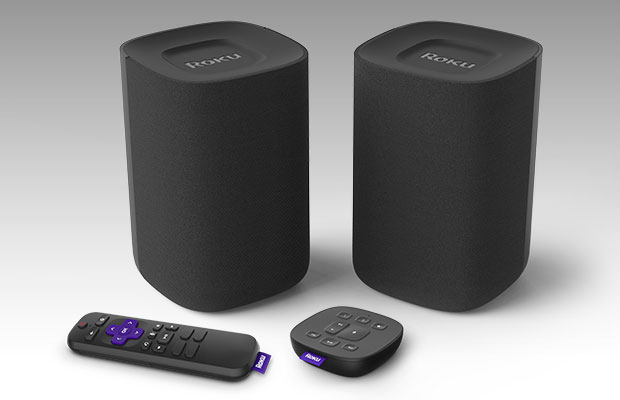 Roku recently announced its new Roku TV Wireless Speakers. The speakers come as a stereo pair, are about 6-inches tall, and will only work with Roku TVs such as those made by TCL and Sharp. According to Roku, these speakers stream audio directly from the Roku TV, from either a streaming channel or via HDMI, without the lag commonly encountered with wireless speaker solutions. The speakers come bundled with the Roku Touch, a tabletop voice remote capable of controlling both Roku TVs and the Roku TV Wireless Speakers. They are scheduled to ship in late October for $200, however the company is taking pre-orders this week for $150 and will raise the pre-order price to $180 starting on July 24.
The speakers are an entirely new product category for Roku, which has recently signaled its desire for a much larger role in the connected entertainment market.
In January, Roku unveiled a new whole home entertainment licensing program that would enable OEM brands to license its Roku Connect software to build audio devices that would enhance the Roku TV viewing experience. Their vision is to build a Roku home entertainment network, anchored by a Roku TV and surrounded by OEM-produced Roku OS devices—soundbars, smart speakers, surround-sound and multi-room audio systems—all connected wirelessly and controlled by voice commands and a single remote.
This vision is to be reinforced by an end-of-2018, free software update adding Roku Connect and the new Roku Entertainment Assistant to all of Roku's streaming media players, set-top boxes, and Roku Smart TVs. When completed, the update will create an installed base of millions of households.
Having just introduced a new program to license its technology to audio vendors, it may seem peculiar for Roku to be introducing its own speakers. According to the company, the move is simply a way to solve a common compliant: most TVs are built with low-end speakers, and setting up external audio devices (and getting all the pieces to work together) is problematic. Parks Associates research finds that over 10% of connected device users have difficulty in getting connected devices to work together. By controlling the software of each device, Roku believes it can reduce consumer frustration, simplify device setup, and provide the user a seamless streaming experience.
That approach seems plausible, but, as always, there is more to the story. In actuality, the speakers are a clever play by Roku on multiple fronts:
The company estimates that roughly a quarter of smart TV's shipped in Q1 of this year are Roku TVs, and volume should increase as smart TVs continue to gain in popularity. Parks Associates recent survey of U.S. broadband households determined that smart TV ownership has almost doubled from 26% in 2013 to 53% in 2018. This presents an attractive addressable market for new speakers and an entirely new revenue stream for the company. Furthermore, any sales of the product will directly advance its goal of creating a Roku-based ecosystem.
By focusing on mid-level speakers, the company lowers the risk of conflict with the OEMs that they are trying to court, most of whom will likely focus on higher-end, higher-margin products.

The speakers should be viewed as the beginning of Roku's larger audio efforts. In January, the company unveiled its plans for smart speakers and an entertainment-focused voice assistant. While the company hasn't spoken further about these initiatives, the new speakers indicate that work is steadily progressing. The Roku TV Wireless Speakers are not smart speakers (yet); however, they allow Roku to quietly widen its footprint in the connected entertainment market and strengthen their position ahead of the introduction of the Roku Entertainment Assistant. If the speakers meet with success, the company will likely introduce a series of voice controlled audio entertainment products to better compete with those of Amazon, Apple and Google.
Further Reading:
Next: NPS for Smart Speakers Poor against Smart Home Devices
Previous: Growing Demand for Streaming Media Players: Amazon's Share Increases by 4%

Comments
Be the first to leave a comment.
Post a Comment