ROI and Telehealth - Q&A Insights Electronic Caregiver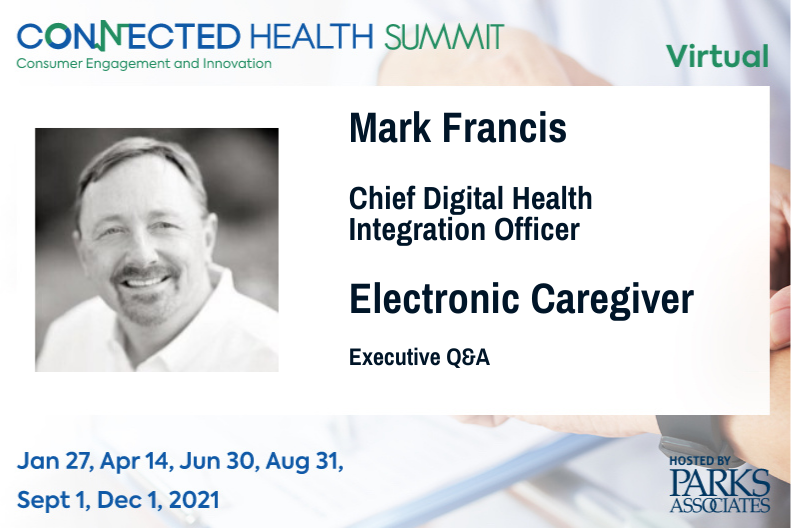 The first track of the Connected Health Summit on January 27 addressed the role of connected health devices in expanding the future of healthcare. Mark Francis, Chief Digital Health Integration Officer at Electronic Caregiver, was the Executive Q&A speaker at the summit. After the event, he followed up with Parks Associates to expand on a couple audience questions:
Q: You're looking at a cost savings ROI-based argument that was already there, but just resisted in the absence of a pandemic. The pandemic knocked down resistance. Do you see resistance coming back? Are there revenue/impact ROI arguments that need work, and collab with payers and delivery networks to ensure future success?
A: For decades the ROI arguments were used to justify telehealth and RPM. This is always challenging outside of a capitated system due to uncertainty on definition, cherry-picking patient populations, annual enrollment cycles, and "we are different" objections. While the pandemic drove use of telehealth it is the reimbursement changes that will make it sticky. In the US, the government pays for the majority of health care. As such, CMS is a "market maker" when it comes to procedures and technologies. It is imperative that reimbursement remains – at parity with in-facility care – and that states expand coverage through Medicaid programs – especially for disadvantaged populations. Beyond this foundation, I expect to see collaborations around cost savings and ROI-related rewards and penalties to drive quality of care and improved care outcomes as part of value based care programs. Medicare Advantage programs and PACE (Program for All Inclusive Care for the Elderly) are nice examples of such programs.
Q: It's really easy for some patients to go to telehealth appointments rather than going into a care facility. What are you doing to encourage them to actually come in when they should? The long-term statistics will be interesting to see.
A: The long term statistics will be very interesting to see. I agree. As noted, I can see a hybrid model of telehealth and in-person care being an optimal outcome – with some interventions clearly needing in-person support. Often what holds people back from coming in are what we are now identifying as "social determinants of health" – distance to a healthcare facility, ability to take time from work to see the health professional, availability of child care, access to transportation, etc. Addressing these issues can help people make the right choices related to receiving care at the right location. The rise of Neighborhood Clinics as we see with Walmart, the partnerships with Uber Health and Lyft to provide rides to doctors' offices – these are steps in the right direction. To encourage patients to come in, perhaps healthcare as a whole can adopt lessons from other organizations and industries that excel in customer service. This would be underpinned by providers embracing the importance of respecting individual's time to ensure that coming into the office delivers value add care that could not be delivered remotely and that it is an efficient, engaging, net positive experience for the patient.
Join us for future Connected Health Summit sessions, held virtually on April 14, June 30, August 31-September 1, and December 1. Register now.
Next: Connected Health Summit continues with "Leveraging the Smart Home for a Healthy Home" and "Serving a Massive Population at Home" Focus
Previous: The Quadruple Aim of Healthcare - Insights from Cloud DX on Connected Health

Comments
Be the first to leave a comment.
Post a Comment