Revenues from Network-Attached Storage to Exceed $4.4 Billion in 2014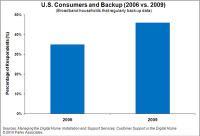 DVRs and video downloads will push the storage needs of U.S. broadband households to almost one terabyte by 2014, creating a parallel rise in the market for file backup and storage solutions, according to international research firm Parks Associates.
Parks Associates's new report Consumer Storage Opportunities finds almost 50% of households are performing regular backups, including external storage, flash drives, and online backup, up from only 35% in 2006.
This is a classic example where growth in one area is spurring another industry. As people accumulate more digital content, the prospect of losing that data becomes more ominous. Companies marketing network-attached storage (NAS) and home server devices should target high-use consumers such as videophiles and music enthusiasts and demonstrate the ease with which these products protect against loss of critical data.
The majority of consumers still use less-reliable media such as CDs, DVDs, and flash drives, but in the past four years, portable hard drives and direct- and networked-attached storage have become more popular. This trend will accelerate, fueled by growth in digital media and dropping storage costs. In particular, product revenues from NAS devices will nearly quadruple between 2010 and 2014.
Next: Over 50% of Mobile Internet Devices Sold in 2014 Will Have Embedded Mobile Broadband
Previous: What a Day for e-Book Reader Market

Comments
Be the first to leave a comment.
Post a Comment