Revenues for Professional Tech Support to exceed $2 Billion by 2013
Parks Associates finds consumer use of tech support tripled since 2006, creating opportunities for service providers, retailers, and third-party providers --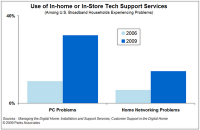 The number of U.S. broadband households seeking professional services for computer and networking problems has tripled since 2006, as more users lack the time and expertise to deal with the complications of today's technology, according to Customer Support in the Digital Home.
This 2009 consumer survey from international research firm Parks Associates reports more than 30% of consumers have used in-store or in-home technical support to solve a computer problem, up from 10% in 2006. Fifteen percent of consumers have used professional tech support for home networking problems, up from 6% in 2006. Parks Associates forecasts U.S. revenues for PC and home networking troubleshooting services will exceed $2 billion due in large part to growing consumer demand and increased prevalence of connected devices.
Customer Support in the Digital Home reports that service providers can enhance their service portfolios through such offerings as managed security, enhanced technical support, and online backup. Value retailers can enhance their standing by creating service programs that go beyond extended warranties to include ongoing support for purchased and installed products.
Customer Support in the Digital Home is a 2009 survey of over 2,000 U.S. broadband households. It covers the following topics:
• Analysis of tech support experiences and services from service providers• Tech support features at the time of a consumer electronics purchase
• Consumer experience and interest in tech support services that include enhanced Internet security, online backup, home computer, and home networking
• Consumer interest in new, emerging home networking features
The CONNECTIONS™ conference, June 2-4, features a Support and Management track, including the panel Remote Technical Support.
Next: Connected consumer electronics sales to exceed 100 million units annually by 2013
Previous: I'm not bullish on Apple TV

Comments
Be the first to leave a comment.
Post a Comment