Residential gateways and home networks to open new revenue streams for service providers
Service providers will see a quick return on investment and be able to build new profits through residential gateway (RG) deployments, which will account for over 50% of all global home networks by 2013, according to Connected Home: Global Outlook.
This new report from international research firm Parks Associates finds U.S. broadband households with a home network from their service provider show a spike in interest in enhanced services such as home network tech support, managed Internet security and parental controls, and online file backup.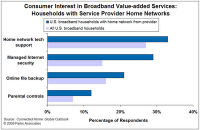 Connected Home: Global Outlook analyzes the worldwide market for home network deployments from broadband service providers, including the role of the RG and related solutions in reducing operational expenses, increasing customer satisfaction, and expanding connected home value-added services and features.
Next: Parks Associates supports TelcoTV 2009
Previous: Parks Associates supports IPTV World Forum, Eastern Europe

Comments
Be the first to leave a comment.
Post a Comment