Research Analyst discusses the State of the Market: Security & Smart Home
Ryan Hulla, Research Analyst at Parks Associates, discusses the state of the market in the security industry and smart homes. Hulla also addresses new trends and what we can expect to see from the industry moving forward.
"In 2020 and 2021 the home security market picked up millions of new households as consumers sought a sense of stability and safety in uncertain times. The industry itself, however, was anything but stable. Market share is shifting, paths to market are changing, and consumers expect choice in how and what they acquire," Hulla stated. "From 2020 to 2021 the home security market continued to see steady growth, with 35% of US broadband households having a home security system in Q4 of 2021. This was up 5% from Q2 in 2020. One of the largest notable changes among home security consumers was their likelihood to switch home monitoring providers, which saw a dramatic increase of 18% from Q2 2020 to Q4 2021."
Many factors led to driving this segment of the market forward. An increase in DIY security installs and product innovation are to factors that have contributed.
"Starting in 2018, product innovations, new entrants, and diversifying business models that give consumers more choice have resulted in steady market growth. COVID-19, economic uncertainty, and civil unrest have all been net drivers for the home security industry. The ambiguity of this time generated interest in products and services that provide consumers with peace of mind. Improved DIY systems are another reason for growth. DIY installs saw a dramatic increase in market share from Q2 2020 (35%) to Q4 2021 (45%), which was likely driven not only by improved DIY systems but fear of COVID-19 contraction from installation personnel," Hulla added. "Historically, the residential security market has struggled to exceed 25% of broadband households owning a system."
COVID-19 has impacted the security and smart home market in a variety of ways and as we transition back from COVID-19 we continue to see shifts in the market.
"Our data suggest it accelerated the home security market, growing from 28% adoption in US broadband households in Q2 2019 to 35% in Q4 2021. Furthermore, our data suggested that self-installation growth was greatly influenced by COVID-19, consisting from 51% of the installs in 2019 to 59% in 2020. This trend was parabolic though, as at the end of 2021 self-installs stabilized back to pre-2020 levels," Hulla said.
As 2022 continues, we continue to see new trends in the market, more changes after COVID-19, and new technology with the potential to impact the future market in a big way.
"A trend we see in Parks Associates data from Q2 2021 to Q4 2021 is a strong rebound of professional installations of home security systems. With more and more people developing some level of resistance to the severity of COVID-19, weaker strands of the virus becoming more dominant while severe strands dwindle over time, having a better understanding of how the virus transmits, and lockdowns lifting in more states, professional installs may continue to climb and take back more of the market share in 2022," Hulla continued. "Outside events such as COVID-19, economic uncertainty, and civil unrest recently have certainly impacted home security industry growth. Innovations that include facial recognition to disarm security systems and unlock doors, Wi-Fi sensing for in-home monitoring without internal cameras, cellular products that expand monitoring to the perimeter of the property, and products that aim to prevent or disrupt intrusions before they happen will likely have a noticeable impact on the market."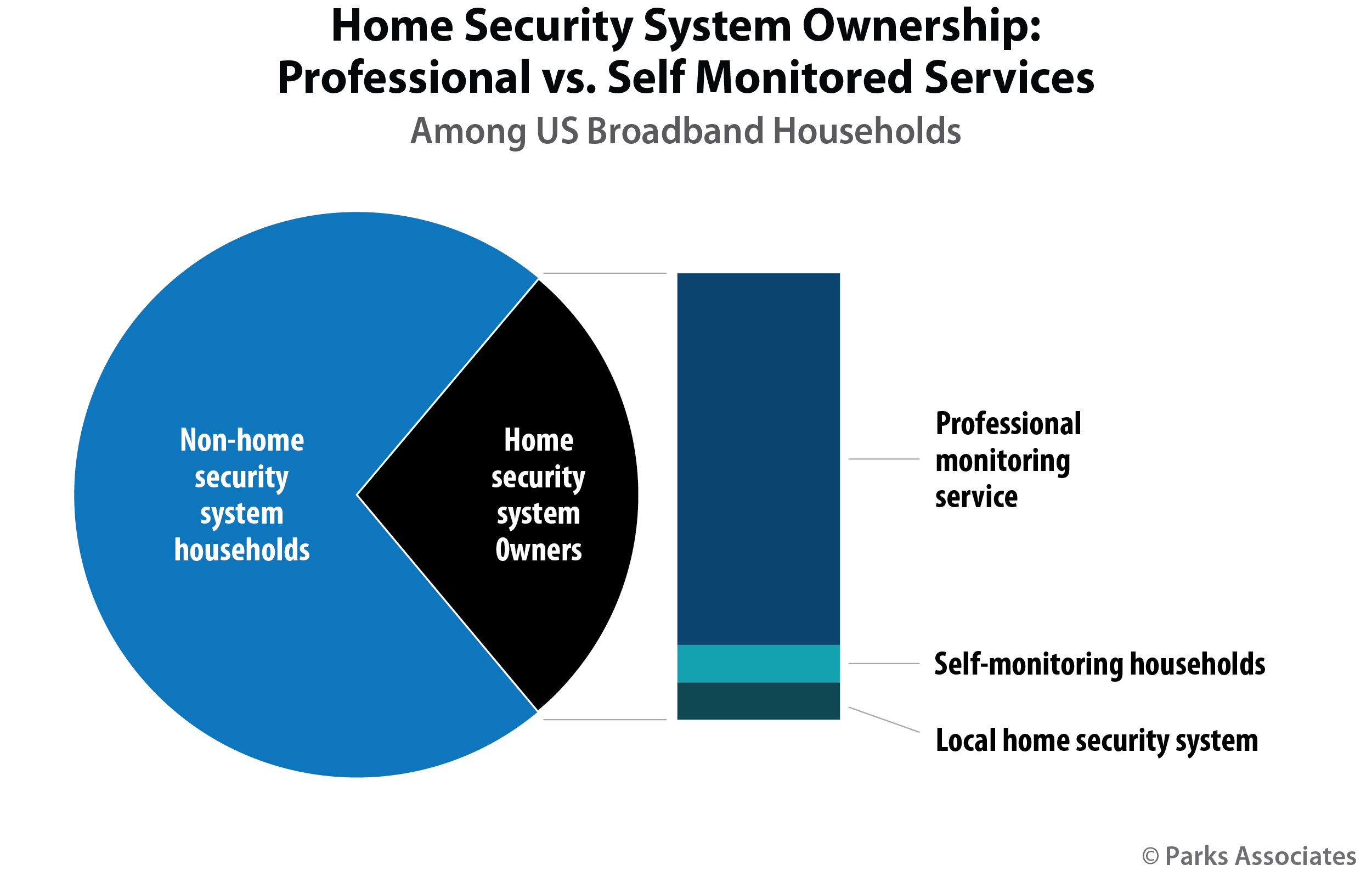 Learn more from our Residential Security Tracker which examines the security market, including industry trends and the impact of new, advanced, and DIY security solutions to expand the market. The research reveals market activities, ecosystem comparison, go-to-market strategies of key players, and more.
Next: Parks Associates Announces F-Secure as 2022 CONNECTIONS™ Research Sponsor
Previous: Security Dealers still Dominate as the Purchase Channel for Home Security

Comments
Be the first to leave a comment.
Post a Comment