Quibi: The Lush Short-Form Video Platform
by Seth D. Yockey | Feb. 5, 2020
One of the most interesting announcements at CES 2020 was the April 6 launch date for Quibi. Intended to target Millennials, Quibi – short for Quick Bites – is a smartphone-only OTT service, featuring only video content of 10 minutes or less. Although there are plenty of apps which emphasize short-form video, an exclusive feature to Quibi is that all content is viewable in both horizontal and vertical screen orientations. Quibi is a hybrid AVOD/SVOD model, with an ad-supported $5/month tier, and an ad-free $8/month tier.
Quibi's stringent content limitations - time constraints and dual orientation viewing - narrow the possible existing content to license. It is questionable if much of the legacy short-form content could even be edited for viewing in both orientations. For this reason, it is likely Quibi will contain only original content. There have been no announced licensing agreements for existing content.
To drive interest in a product many may write off as an expensive alternative to YouTube, Quibi has made a point to tap big names in the entertainment industry. This is taking form with new titles from big Hollywood names (e.g. Spielberg's After Dark, Killing Zac Efron, and Chrissy[ Tiegen]'s Court), and rebooting old TV franchises sure to be familiar to Millennials (e.g. The Fugitive, How to Lose a Guy in 10 Days, Legends of the Hidden Temple, Punk'd, Reno 911! and Varsity Blues). However, these only represent a fraction of the 175 planned series, expected to total 8,500 episodes in the first year. Understandably, this will not be cheap to produce.
Founded by former Disney executive Jeffery Katzenberg, Quibi has raised over $1.4 billion in funding from a handful of investors and all major Hollywood studios, including The Walt Disney Company, NBC Universal, Sony Pictures, Warner Media, Liberty Global, ViacomCBS, and Alibaba Group. This fundraising number closely matches the amount planned for spending on original content for this year. Reports are circulating of an average content development cost of a staggering $100,000/minute with a maximum of $6 million/hour.
As technology has democratized content creation, the short-form video space is increasingly populated by user-generated content. Some once-amateur creators have started businesses around their content, but many are still largely cottage industries. Other content creators have founded full-blown production companies which create shows for a variety of TV networks and OTT services – still specializing in short-form video.
With the sheer amount of money being spent on a form of content which has more recently been dominated by those working with little or no budget, it follows that creators are eager to work with the platform. Recently, when asked about Quibi, executives from a production company which mostly creates short-form video commented that Quibi was a "cash cow," and they would love to work with it. It seems there is certainly no reason to think Quibi will be lacking in content, but will it be able to find an audience?
The short answer seems to be "yes." According to Parks Associates research, younger audiences overwhelmingly make up the viewership of short-form content. Ages 18-34 make up 59% of heavy short-form content viewers. When 35-44 year-olds (still Millennials) are included, the number increases to 76% of heavy viewers and 52% of light viewers (Figure 1).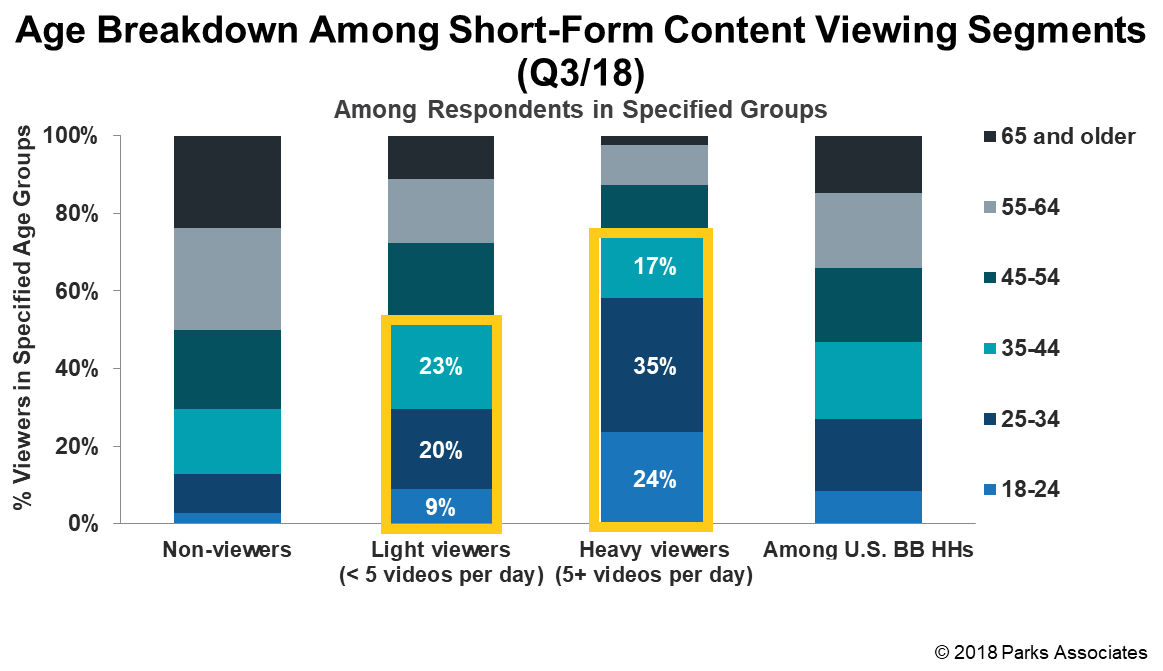 Figure 1: Short Form Viewer Segments by Age
Additionally, even though OTT penetration growth has slowed in recent years, the number of concurrent services consumers are holding is sharply increasing. In 2019, the number of households with 4 or more OTT subscriptions doubled, increasing from 7% to 14%. What is equally meaningful is the only segment of OTT subscribers that meaningfully decreased was 1-service households (Figure 2).
Effectively, 7% of broadband households each picked up three more OTT subscriptions in 2019.This roughly translates to an additional 22.5 million OTT subscriptions over the course of the year in the US alone.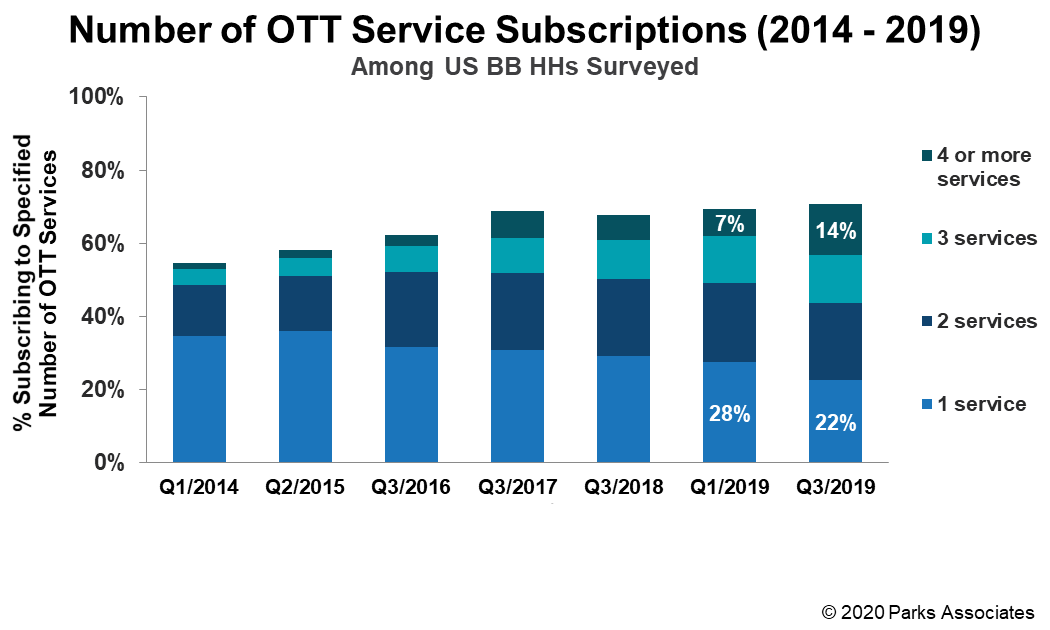 Figure 2: OTT Subscription Density
Based on these trends, things look positive for Quibi. Given its funding, there should be no shortage of content, and given the viewing habits of Millennials, there should be no shortage of interest.
Further details about Quibi, and other OTT services are tracked in Parks Associates' OTT Tracker. Additionally, consider attending the third annual Future of Video conference hosted by Parks Associates in LA in December 2020, where we bring together industry leaders to discuss the latest trends, technology deployments, and business models for video services.
Next: Disney Bundles Its Way to Success
Previous: Future of Video Services - Insights By Verimatrix

Comments
Be the first to leave a comment.
Post a Comment