Premium Pay TV Services: A Peek into the Future
by Brett Sappington | Aug. 2, 2016
Pay TV is fighting a battle on two fronts. Fighting the slow erosion of the core business is one, both through retaining existing subscribers and attracting the newest generation of consumers to pay TV. The second is the fight for premium revenues, uptake of premium pay TV services including VoD, pay-per-view, DVR, and premium channels.
Nowhere is this struggle more evident than in North America, home to some of the highest pay TV ARPUs in the world, fueled in part by uptake of premium pay TV service options. These high ARPUs have allowed companies like Comcast, AT&T, DISH Network, Verizon, Cablevision, Rogers, and Bell Canada to fund innovation in pay TV, including cloud DVR and new set-top box features.
Today, consumer spending and viewing share is flowing into OTT video services and other options, pulling money away from premium pay TV offerings. At the same time, innovation in virtualized, network based features and new business models for premium services will promote the growth of premium options.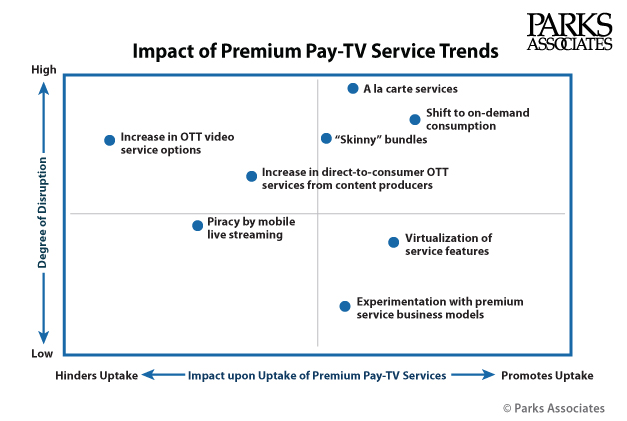 Other factors will also affect premium pay-TV features over the next few years:
Cloud-based premium services and service features will become the norm. The push to provide service features via the network or to virtualize set-top box features is part of a larger, enterprise-level technology trend. After years of attempts to be more than just a "dumb pipe," pay-TV operators have come to realize that a smart, flexible pipe can similarly transform their businesses.
Premium services will face increasing pressure from alternatives in the market, particularly among younger consumers. The advent of OTT video services marked a new era of competition for operators. Operators have focused on quality, stability, and reliability—all important for premium services—but consumers, particularly younger consumers, are attracted to new features, devices, and innovations. As a result, operators have increasing pressure to innovate themselves in order to continue to be perceived as the consumer's primary source of video entertainment.
Pay-TV providers, content producers, and technology providers may consider the following options to prepare for the future of the video services market.
Pay-TV providers
Partner with content producers on engagement-related initiatives
Partner with successful premium service alternatives
Experiment with alternative business models for premium services

Content producers
Be early to join skinny bundle discussions
Prepare for a new generation of premium service consumers

Technology vendors
Create solutions to allow fixed-line operators to be PaaS premium service enablers for third parties

As the pay-TV industry grows to add premium services as a standard offering, there are large opportunities for incumbents and start-ups to have a real impact on adoption of these services. The companies that are flexible, that work with third parties and add new partnerships, and that embrace the change will be successful in helping to grow adoption of premium pay-TV services.
Further Reading:
Next: What the Appeals Court Ruling Means for the OTT Video Market Space (I Read the Ruling So You Don't Have To)
Previous: BroadbandTV, Insights and Main Points

Comments
Be the first to leave a comment.
Post a Comment