16% of U.S. broadband households own two or more smart home devices
by Brad Russell | Sep. 25, 2018
Buyer research shows smart thermostats serve as gateway devices for smart speakers
Smart home research from Parks Associates finds that U.S. broadband households are buying additional smart devices as more purchase channels open to them—16% of U.S. broadband households own two or more smart home devices. According to 360 View: Smart Home Buyer Journey and User Experience, smart thermostats are the best-selling smart home category, and nearly 50% of smart thermostats bought in 2017 were purchased as an upgrade to an older model, while 16% of smart thermostats were sold through HVAC dealers.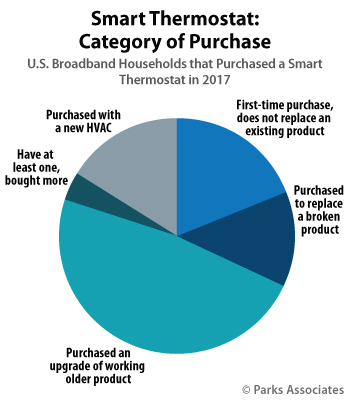 "The buyer journey for smart home households is important to study and understand, as we see one purchase frequently leading to a second and third, with householders acquiring devices incrementally rather than all at once," said Brad Russell, Research Director, Connected Home, Parks Associates. "For smart thermostats, a household that buys this device frequently moves on to a smart speaker with personal assistant as their second or third smart home purchase."
Parks Associates' smart home research examines the changing demographics of buyers as they migrate from innovators to early adopters to early majority, including changing preferences for purchase channels, replacement cycles, installation, control interfaces, and system integration. Smart home device purchase intentions continue to grow, increasing from 26% in 2014 to 48% in 2017, with 34% of consumers reporting high intention to purchase a device.
The Smart Home Purchase Process documents the buyer journey, describing intentions for first product/system purchase, actual purchase behavior, user-reported experience at stages of ownership, and the processes for follow-up purchases.
"As the smart home industry attempts to cross the chasm—moving from adoption among early adopters to the early majority—brands in the space fervently seek to understand the value propositions that drive product adoption and how to improve perceived product value," said Patrice Samuels, Senior Analyst, Parks Associates. "Understanding the buyer journey is equally important for industry development."
Additional findings:
26% of U.S. broadband households report owning at least one smart home device.
22% of U.S. broadband households report purchasing a smart home device over the past year.
13% of U.S. broadband households own a smart thermostat.
More information about Parks Associates' research is available at www.parksassociates.com. To schedule an interview with an analyst or to request specific data, contact Julia Homier at julia.homier@parksassociates.com, 972-996-0214.
About Parks Associates: Parks Associates, a woman-founded and certified business, is an internationally recognized market research and consulting company specializing in emerging consumer technology products and services. Founded in 1986, Parks Associates provides business intelligence and research services through its proprietary methodologies developed over decades, including quarterly surveys of 10,000 internet households.
The company's expertise crosses many industries: home security and smart home, streaming video, broadband and pay-TV services, digital media and platforms, gaming, Wi-Fi and home networks, connected health, support, consumer electronics, home control systems, energy management, and tech solutions for the multi-dwelling (MDU), small-to-medium business (SMB), and commercial building markets.
Each year, Parks Associates brings thousands of leaders together for its webinars and annual events. The firm hosts the annual executive research and strategy conferences CONNECTIONS™, Connected Health Summit, Smart Energy Summit, Smart Spaces, and Future of Video. https://www.parksassociates.com

Next: IoT Vulnerability Can Be Reduced With Blockchain Implementation
Previous: IoT Solutions to Improve Consumer Health

Comments
Be the first to leave a comment.
Post a Comment