Personal Health Technology Spending to Exceed $460 Million in the Disease Management Sector in 2013
Competitive pressure and congressional stimulus funds drive adoption--Providers of personal health technologies such as health monitoring devices and personal health records (PHR) can generate over $460 million in revenue in 2013 by targeting the disease management (DM) industry, according to Parks Associates' recent report Disease Management Industry and High-Tech Adoption. The international research firm cites changes in the healthcare landscape, combined with the Obama administration's stimulus package and reform initiatives, as catalysts for accelerated technology spending over the next five years.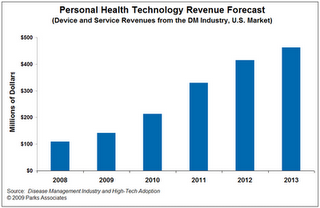 Technology vendors that are familiar with the unique characteristics of the DM business and can show the clear and immediate benefits of their solution within this context will be in the best position to win these contracts.
Disease Management Industry and High-Tech Adoption is Parks Associates' latest research report about the future of the disease management industry. It highlights challenges and opportunities and discusses technology's role in driving innovations in new care management models.
Next: Parks Associates supports The 6th Annual World Health Care Congress
Previous: Aerotel Bows GPS-enabled Personal Safety Solution GeoSKeeper

Comments
Be the first to leave a comment.
Post a Comment