Parks Associates' Connected Health Summit Returns with Insights on Telehealth Services and the User Experience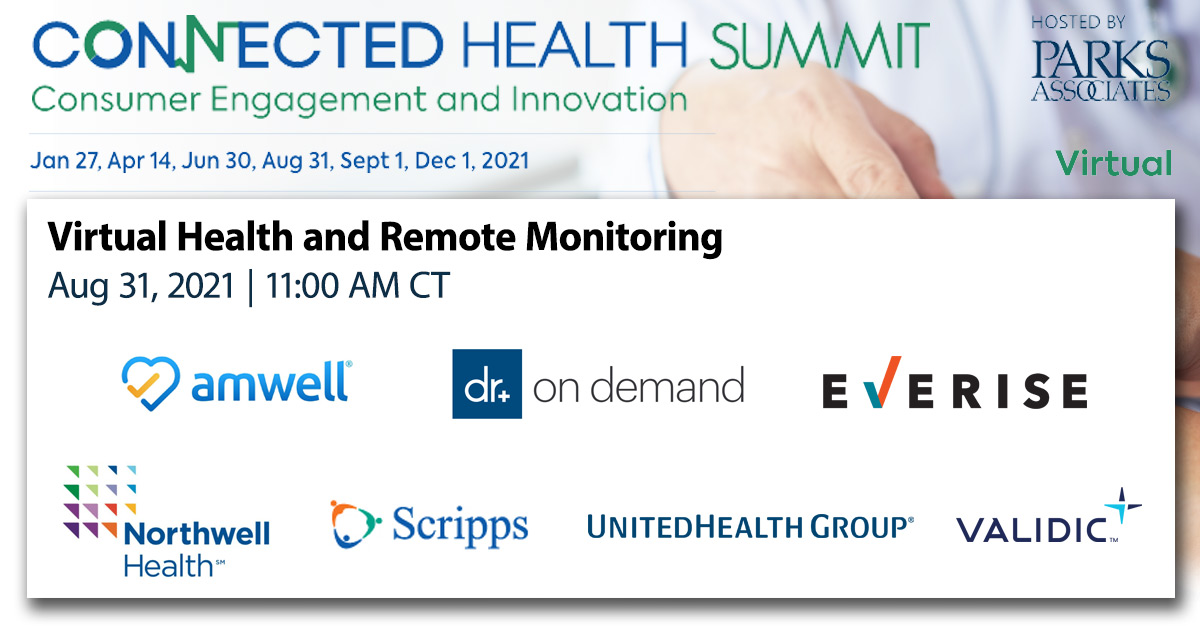 Parks Associates continues its Connected Health Summit: Consumer Engagement and Innovation virtual series with the session Virtual Health and Remote Monitoring on August 31 from 11 AM to 1:15 PM CT. During this session, leading industry executives will examine the user experience with telehealth services and investigate consumer appetite for virtual care as a standard offering outside of crisis conditions. Throughout the event, Parks Associates will highlight exclusive research data regarding consumer use of telehealth services, the familiarity of virtual care among US broadband households, and more.
Don't miss the opportunity to join the interactive conversation regarding telehealth services, virtual care options, and the future of healthcare with the industry's leading executives:
Thank you to our event sponsors: Alarm.com, Essence Group, and Everise.
Register today for year-round access to all previous and upcoming sessions on August 31, September 1, and December 1!
Next: How Technology and Remote Monitoring Enables Healthy, Independent Living - Insights from Validic
Previous: Parks Associates' Connected Health Summit Continues with Insights on the Shifts in Healthcare Following COVID-19

Comments
Be the first to leave a comment.
Post a Comment