OTT Video Services Expand to Smart Displays
by Brandon Riney | Jan. 15, 2020
The availability of OTT video services on multiple platforms is a key component of reaching new audiences. Due to the high cost and effort required to develop support on any given platform, services prioritize certain connected devices, at least initially. As a service matures, it continues to add support for new devices in order to capture feasible markets and provide current subscribers with additional ways to access content. As the market for OTT services evolves, new opportunities for potential streaming platforms emerge.
The newest category of screened in-home device to emerge is the smart display. While primarily aimed at being the control hub for smart home equipment, smart displays are also a streaming video platform. At present, one-in-five US broadband households own a smart display.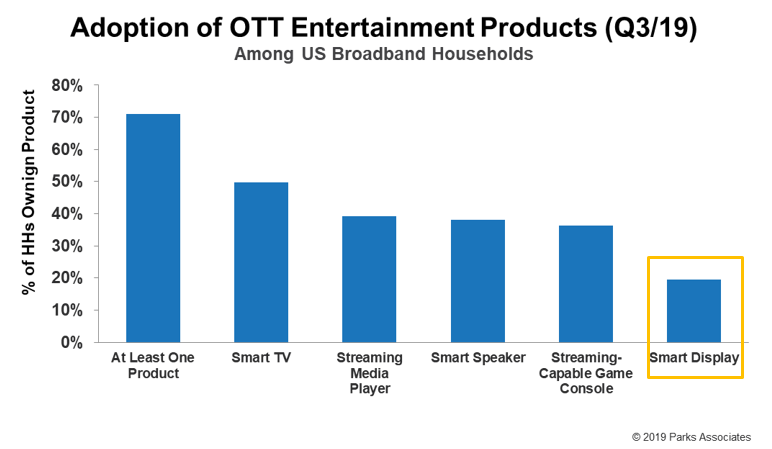 vMVPD provider Sling TV announced that it is now available on Google's Nest Hub/Hub Max, as well as Facebook's Portal TV. Tubi TV announced that it is now available on Amazon's Echo Show as well as Google's line of Nest Hub devices, becoming the first AVOD service available on the smart displays. Transactional video on-demand service FandangoNOW launched on Facebook's Portal TV, and benefits from being the only TVOD to operate on the platform. Sling TV, Tubi TV, and FandangoNOW users can stream video to these devices and leverage voice assistant technology or motion-activated gestures to control their experience. All of these services join others in expanding to a new category of screens, such as Hulu (SVOD + Live TV) and Food Network Kitchen being available on Echo Show, as well as YouTube and its live TV service on Nest Hub/Hub Max.
Placing their offerings in front of as many consumers as possible helps streaming services grow their level of awareness in an increasingly crowded OTT market. Providing support for non-traditional, internet-connected video devices such as smart displays differentiates the services that do by operating in a space that has few competitors. It also provides the advantage of flexibility across a rounded out ecosystem of internet-connected devices, particularly appealing to smart home device owners who are more likely than other households to own a smart display.
For a more in-depth perspective on connected screens, streaming devices, and consumer attitudes towards digital media, check out Parks Associates' 360 View: Digital Media and Connected Consumers.
Further Reading:
Next: Streaming Wars Expected To Minimally Impact Netflix Q4 Earnings
Previous: The Rise of Ad-based OTT Services

Comments
Be the first to leave a comment.
Post a Comment